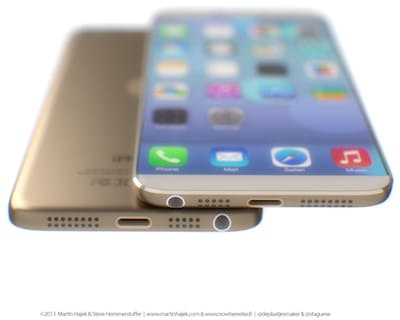 Hurdling into the summer months, there is no shortage of rumors surrounding the iPhone 6. Apple's newest flagship handset is expected to launch sometime mid-September, based on information that German Apple retail employees are on a restricted schedule that month. This timeline matches last year's schedule, as employees were on limited vacation from September 15 – 28, during the iPhone 5s/c launch. As the date approaches, more information is being pinpointed, including alleged part leaks.
The newest "intel" includes suggestions about a crisper display. Apple last updated its screen when the iPhone 4 received a Retina Display. Of course, the size was increased for the iPhone 5, but resolution ppi may get a big boost in the upcoming model.
Based on information reportedly out-of-Apple, the 4.7″ iPhone 6 may have a triple pixel display, as compared to current models. Moving from the iPhone 5 display resolution of 640 x 1136 to 960 x 1704, the resulting display, at 4.7″, would produce 416 ppi and maintain the current 16:9 ratio. However, this is in contrast to previous rumors by analyst Ming-Chi Kuo, claiming a 750 x 1334 resolution for the 4.7″ device at 326 ppi.
The newer triple pixel estimate is based on Apple's current Retina process. The base resolution is 320 x 568, which is one half of the iPhone 5/s/c screen. The @2x doubling system scales the images to Retina at 640 x 1136. If an @3x version is implemented, it would produce the 960 x 1704 resolution. The scaling would take a Retina ready app and scale it an additional 50%, resulting in a semi-blurred status until updated to natively work with the new Retina resolution and iPhone 6's various sizes.
In addition to conversations about resolution, another perplexing hardware issue is with Near Field Communication (NFC). NFC allows for close range communication between the handset and enabled devices. NFC payment systems are the most commonly considered use-cases for the technology. A couple years ago, Apple claimed NFC was neither widely adopted enough nor advanced enough for inclusion with iOS and iPhones.
In contrast to those earlier claims, Kuo also suggests iPhone 6 will see the inclusion of NFC technology. This would further Apple's hushed conversations about imbedding a mobile payment system into the iPhone. With iTunes already running with 400+ million credit card numbers, it would be an easy move.
However, Apple's own iBeacon technology could potentially be used in some form of iPhone 6 mobile payment system. Considering the move to offer a mobile option, perhaps the question is more around what technology will be utilized, and less about if, or when, Apple will include one in the iPhone. The ability to simply authorize a payment during checkout from one's phone, eliminates the need to carry personal credit cards and hard copy receipts. A Touch ID fingerprint sensor would make things secure, while enabling the purchaser to command transactions.
[source: MacRumors]