If you're someone who keeps up with all the latest and greatest technology, attending CES is probably high on your list. This annual conference held every January in Las Vegas is when top tech companies reveal their newest innovations and give a glimpse into what we can expect to come that year.
CES Discount
We're exhibiting at the show in booth 3710. We offer a 10% discount to everyone who visits us at the show and we're extending the discount to you, PLUS an added shipping promotion!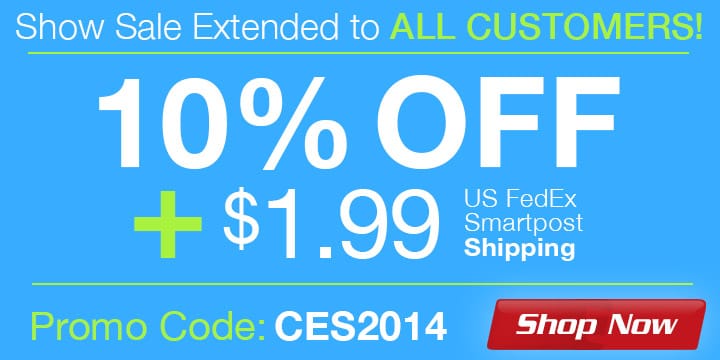 CES Highlights
What's happening this year? Here are some of the show highlights so far:
Sony announced a cloud-based TV service with live TV, DVR and video on demand. The service can be used on any Sony gadget and will allow for cross-channel search of video content. This was in addition to the announcement of PlayStation Now, which is their cloud gaming service for TVs, consoles and phones.
Sony also announced that their Xperia Z1S smartphone will be available in the US on the T-Mobile network starting January 13th.
Mophie is expanding its Juice Pack battery case line with the Mophie Space Pack, which is supposed to double the battery life of iPhone 5/5s and double storage capacity.
Intel releases processors for computers with the ability to switch between Android and Windows operating systems.
Samsung revealed a 105-inch curved UHD (ultra-high-def) television and a curved display in 55-inch, 65-inch and 75-inch televisions.
Developer Typo revealed a Bluetooth keyword case for iPhone 5/5s that fits onto the phone as a case and allows for typing with physical keys. BlackBerry is now suing Typo for patent infringement.
BMW showed off ActiveAssist, a new car feature that will take over control of the car in emergencies. The program will steer, brake and accelerate for you when necessary.
Smart watches and other wearable tech are growing in popularity. LG showed off its LifeBand Touch which tracks activity and sleep and can also receive email and texts.
Corning showed off their Antimicrobial Gorilla Glass 3 for smartphones. Early demonstrations fail to show large benefits of this technology, but Corning is excited about the potential.
Audi reveals the Sport Quattro Laserlight, a hybrid electric car with laser headlights. These powerful beams promise to shine 1,000 feet, double the distance of standard high beams.
Ford showed off a concept for a solar-powered car. Ford' C-MAX uses rooftop solar panels that Ford claims could fuel 75% of its trips.
Those are just a few of the highlights. For round the clock reporting, check out CNET's CES 2014 coverage.
*Offer expires January 13, 2014. Discounted shipping valid on FedEx SmartPost for orders shipped in the US. Percent off does not apply to taxes or shipping costs, is not valid on previously fulfilled or shipped orders and cannot be combined with any other offer. Discount does not apply to dealers, resellers or corporate accounts.