Our Facebook page has been on fire with iPhone 5 talk since the phone was announced on September 12th and released September 21st. We noticed a lot of talk about the new lightning connector in particular. To help pull some of the comments together and give us a better idea of what you guys think, we asked a few poll questions. Let's take a look at the results.
iPhone 5: Case or No Case?
First, we asked what you guys thought about using a case with the new iPhone 5. Some reports have said the new aluminum back makes the phone more likely to scratch, which may be even more of a reason to cover the phone. On the other hand, some people just don't like covering up such a beautiful piece of technology! However, using a case won with 56% of the votes. Although there are some pretty cool looking cases available, sometimes safety is just more important. After all, replacing a phone isn't cheap.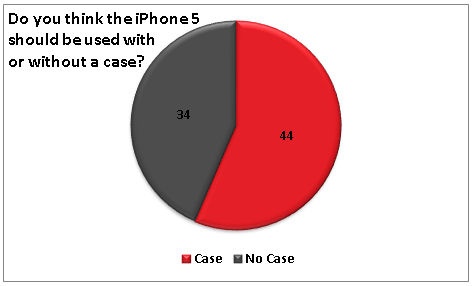 We also asked if people were to use a case on their iPhone 5, what case they would choose. Here are just a few of the comments we received:
"Incipio skinny case just to reduce the dings and scratches."
"Waiting for the new TwelveSouth book case."
"Clear Snap case by InCase. Minimalist… Why hide a beautiful phone?"
"I went with the Otter Box from AT&T."
"I chose the Speck Hurley case and my wife got the Platinum case that Best Buy sells."
iPhone 5: 30-Pin or Lightning Connector?
The next question we posed about the iPhone 5 was about the new, and much debated, Lightning Connector. The new connector requires the use of an adapter (30 pin to Lightning) for all of your old iPhone docks. Adapters will be available in October from Apple. The older iPhones are also thicker than the new iPhone 5 so a new ProClip holder series has to be made to accommodate the slimmer size as well as the Lightning Connector.
The Lightning Connector is an update in the technology, smaller and reversible. We had 89% of respondents answer that the Lightning Connector was a good idea and an improvement from the 30-pin.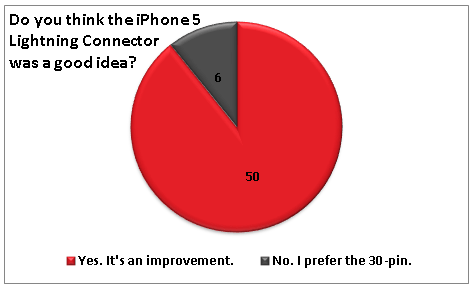 This poll also created more buzz. Here is what some people had to say:
"Nice, small and orientation doesn't matter."
"I like it, but it is going to be expensive replacing my old leads."
"Charges way faster than previous option. Plus the previous option has way too many generics out that don't work properly."
"Like it. Don't have to turn to connect one way and its small yet solid."
"All I ask 'What's wrong with the standard micro USB?'"
What Are You Interested in Knowing?
If you want to join the conversation or suggest a topic for our next poll, we'd love to hear from you! Visit us on Facebook to join the fun.
Mount Your iPhone 5 in Your Car
Looking to mount your iPhone 5? Get the latest information on the holders we have available for iPhone 5 and what will be coming.