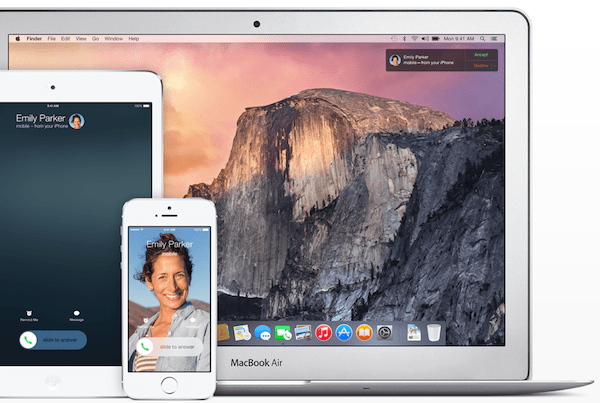 With the introduction of OS X 10.10 Yosemite, many new features will be added with iOS 8 in mind. Some would consider the upcoming integration a long awaited feature that should have been included long ago. Similar armchair analysts would claim the technology existed but Apple neglected to include it until absolutely necessary. Either way, the lines may begin blurring between Apple's two OS platforms.
Continuity is the name being given a special set of integrated features between iOS 8 and OS X Yosemite. The feature will allow a more seamless transition from an iOS device to a desktop system. A new feature termed Handoff keeps you working on the same project or item, whether running from your desktop to mobile, or vice versa. An example of Handoff working in-app is with Mail.app.
Frequently, users may begin writing an email on their desktop, but need to jump off to another task, or run out the door to accomplish another task. With Handoff, users can grab their iPhone or iPad on their way out and instantly begin typing where they left off. Even if mid-sentence, iCloud pushes the content over to the second device, allowing instant pick-up-and-go. This feature also works between iOS devices and from iOS devices to OS X. With the launch of iOS 8, most major Apple apps will work including: Mail; Safari; Pages; Numbers; Keynote; Maps; Messages; Calendar; and Contacts. Most importantly, Apple is opening the feature to developers, allowing similar third-party functionality.

Continuity will also allow users to place and answer calls from their iPhone on iPad or an OS X device. This is not to say the OS X device or iPad can now place calls independently, however. The other devices must be on the same WiFi network and linked via iCloud. Once this simple setup is complete, which is most likely already the case, a pop up banner announcement will cue the call on all devices when the iPhone receives the call. Conversely, if there is a number on the desktop that needs to be called, OS X can place the call through the same on-network iPhone, even if it is not in the same room. Use the desktop's mic and speakers to conveniently place a call at your desk.
Similarly, non-data planned iOS devices, i.e. iPods and iPads, and OS X can connect to a user's iPhone in order to send and receive text, SMS messages. Previously, this functionality was limited to iMessage, meaning users could only message other Apple devices with their equipment. Continuity allows for the SMS messages to be pushed into the other devices.
The final major feature, which is geared more toward a pro-user, is the instant tethering option. If your iPad or Mac is not within a WiFi hotspot, Continuity allows your alternate devices to tap into the tethering settings on iPhone. Preventing the need to reach for an iPhone, pop into settings, and activate tethering, Continuity allows the alternate device to request tethering from the iPhone. To save battery life, when the alternate device is not frequently requesting WiFi connectivity, iPhone will intelligently disable the connection.
iOS 8 is set to launch this coming fall and is currently in beta version 3. OS X Yosemite and iOS 8 are expected to be available to the public simultaneously and will be offered as a free upgrade to existing customers.