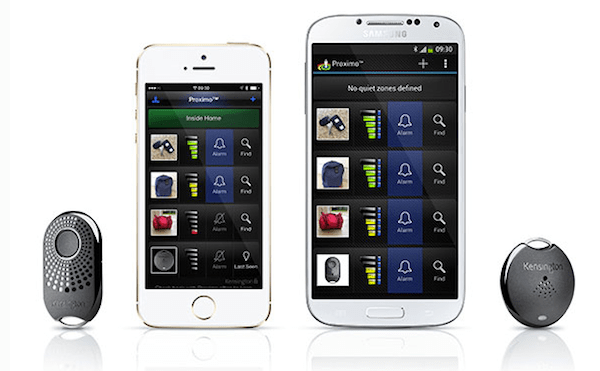 Promising to "make everyday easier," Kensington developed the Proximo key fob and tag to help users find lost items. In a survey of U.S. mobile moms, at least 1 in 8 admitted to misplacing their smartphone either "very often" or "often." According to national statistics, 34 million moms are considered in this category, offering a large number of potentially lost smartphones.
Kensington intends to solve an issue that plagues many smartphone users – forgetfulness. Using a fob and tag in coordination with a smartphone app, iPhone and Galaxy owners will be alerted when separated from the Kensington hardware. Assumedly, the units connect to the smartphones using Bluetooth technology, although the hardware specs are unavailable. Once the Bluetooth connection is broken by distance, alarms sound both on the keyring and smartphone, preventing the loss of either.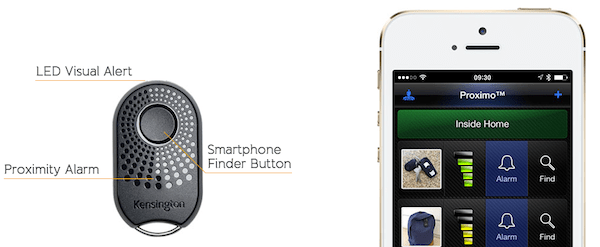 The fob includes an LED visual alert, proximity alarm, and smartphone finder button, which sounds an alert to the lost phone when depressed. Similarly, the tag includes an LED visual alert and proximity alarm, but does not have the ability to sound an alarm through the smartphone app. Based on Kensington's information, the tag is more for items around the home.
Alarms can be selectively toggled through the smartphone app, preventing alarms from sounding when intentionally leaving items at home. For example, keeping a tag on a child's favorite toy is not an alarm one would like to hear all day at the office. Other critical tools in the app include a proximity meter based on signal strength, find-it alert, and last seen location pin.
Setting up the fob or tag is made simple through the Proximo app, which guides users through the process. When adding multiple units, one smartphone can track one fob and up to four tags. Outfitting items in the home can get costly when adding multiple units as the fob is $39.99 and tag is $24.99. The corresponding app is free.
Other similar products include: HipKey; Stick-N-Find Stickers; Zomm Wireless Leash; and the upcoming and anticipated launch of Tile.