The Electric Ford F-150 Lightning
The radio static is over: Ford has announced the F-150 Lightning — the full-electric pickup promising high-tech innovation in environmentally conscious form.
Embracing Electric
Let's get started: Ford's newest next-gen addition has been announced, upping the ante of modern electric vehicles with overnight charging. The 2022 Ford F-150 Lightning signals the brand's full shift towards electric driving, one likely to inspire the industry at large.
With an entry-level price-tag of about $40,000, it's certainly more affordable than anyone had guessed: While materially more expensive than the entry-level lineup's combustion engine version, as well as the ICE pickup, the Lightning still holds its grounding as one of the lowest-priced, battery-electric options available in today's pickup truck market segment.
Let's See the Specs:
Durable as ever, Ford backs its Built Ford Tough slogan while joining E-Transit. We'll soon see rapid growth in the Ford work-ready electric vehicle category, as it's rapidly being backed by a nationwide, EV-certified network of fleet-sellers—complete with full-fledged financing and service providers.
The Power Package
At the top of the line, we have the F-150 Lightning Pro, which offers dual-motor power, 4×4, at the 426-horsepower mark. With a targeted, 230-mile-range, EPA-estimated, the Lightning's extended-range iteration will up the ante to 563 horsepower—expanding its mileage to 300.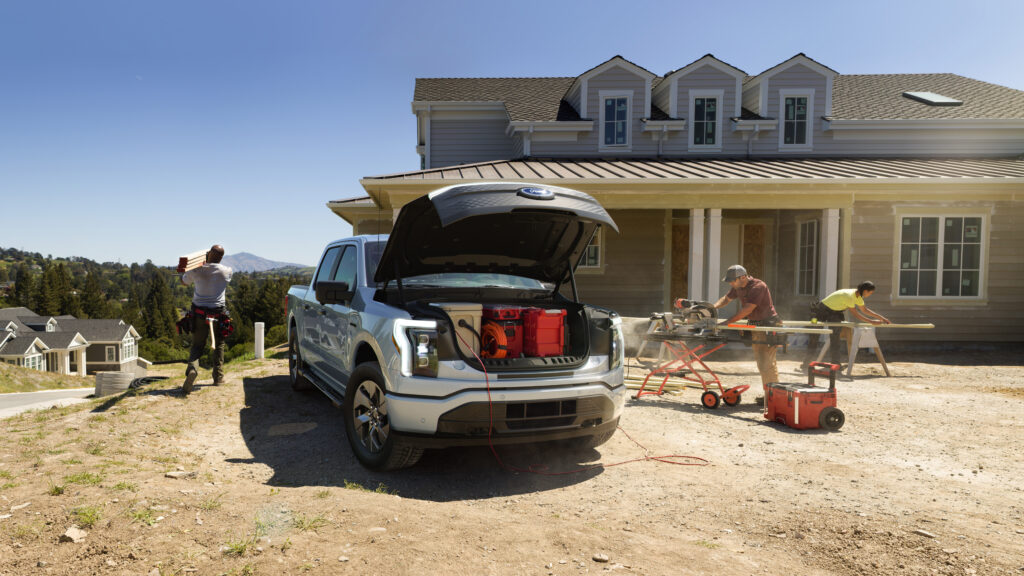 Plenty of Space
We'll also see Ford's new Mega Power Frunk, which offers 14.1 cubic feet of water-tight, lockable storage. The Mega Power Frunk is stated to tug approximately 400 pounds, outfitted with four, 120-volt AC outlets. Two USB ports are also included, as well as two in-cabin outlets, two outlets in the 5.5-foot cargo bed and F-150's classic mounting points.
In full sweep, the F-150 Lightning also boasts vinyl seats at the Pro level—as well as a more compact infotainment screen.
Commercial-Scale Adaptability
Ford hasn't skipped on its fleet options, either, as the Lightning's charging system has made for North American fleets at both the 48- and 80-amp charge levels. This does mean the Lightning can be charged overnight, and the Level 2 AC plus Ford management solutions source lends itself to not only public and depot key-holders—but to residential Ford drivers, too.
So, When's the Rollout?
We'll see the Lightning strike in springtime, 2022: A posted delivery date which is about six months earlier than anticipated. The initial volume rollout is undeniably low, in the tens of thousands range, but this isn't necessarily surprising due to Ford's pursuit of careful industry navigation in its brand's evolution.
Excited? We sure are—and there'll be plenty of electronics to experiment with, given the Lightning's astounding level of in-cabin connectivity. Stay tuned for more Ford F-150 Lightning news, as the forecast is quickly gaining in intensity.