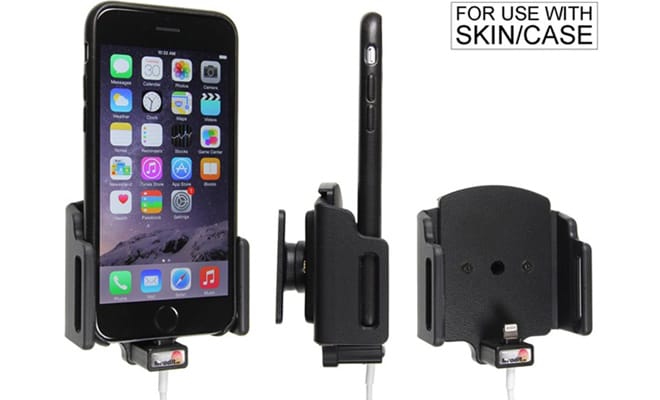 If you have an iPhone 7 and you use a small to medium sized case, then this holder may be the solution for you. The ProClip Adjustable Cable Attachment Holder for iPhone 7 (514666) adjusts to fit your phone with a case.
This holder works well with small to medium cases, which includes standard size cases like the Apple Leather. The side arms of the holder adjust to custom fit your iPhone and the case. This holder is also compatible with iPhone 6 and iPhone 6s devices. Like most of our other phone holders, it features tilt and swivel so you can avoid glare and adjust for the best viewing angle.
Cable Attachment Charging for iPhone 7
Simply insert your existing iPhone cable into the block until you hear a click, and you'll have a secure charging connection. Note that the cable attachment block will only work with the lightning cable that came in the box with the purchase of your iPhone.
Like all of our holders, it utilizes the AMPS hole pattern for attaching to a custom ProClip vehicle mount.
Vehicle Dashboard Mounts
After you pick out the right car phone holder for your iPhone 7, you will want to choose a custom dashboard car mount for your vehicle. All of our mounts are designed to fit the exact dimensions of the vehicle's dash to provide a secure and sturdy mounting solution. Our vehicle mounts can be installed in less than five minutes and will not cause any damage to your dash.