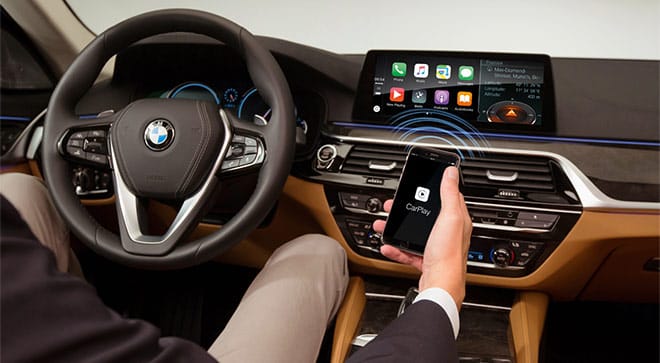 (Photo: Business Wire)
The studio vendor Harman has shown off its newest in-car tech solution: CarPlay with wireless connectivity. Soon to be available for other car manufacturers, CarPlay is currently a BMW 5 Series Sedan exclusive. Harman, itself, is the industry's first manufacturer's system to implement CarPlay via the iPhone. Non-wired, CarPlay is connected via wi-fi and Bluetooth, granting drivers the ability for simultaneous operation between in-car entertainment and driving functions.
CarPlay Features
CarPlay navigation features aren't all about the drive. It provides call support, music playback and a variety of other options. Controlled directly through the car's display, CarPlay maximizes in-cabin comforts without sacrificing ease of accessibility or awareness. The all-new BMW 5 Sedan is fully outfitted with these services, and CarPlay is connected to several driving modes, a heads-up display, adaptive cruise control and gesture control.
Car tech enthusiasts might have seen CarPlay's debut as a 2015 iOS 8 beta app. Its later arrival, included as part of the iOS 9, carried a variety of tech updates. Automakers were rather slow in adopting CarPlay, yet its popularity is on the rise. Because CarPlay is additionally available in after-market solutions, tech-lovers can expect widespread accessibility and feasibility of purchase.
Meshing "Phone" with "Fun"
The Apple CarPlay's integration incorporates a variety of iPhone features to make sure fun is a result. That said, there is a down-to-business side of CarPlay. Drivers can take advantage of its mobile office, its voice recognition software and its safety-guaranteed display options.
Harman isn't new to the game. They've delivered countless consumer solutions in the past, including previous mobile ecosystem integration services. Whether it's Android Auto, CarPlay or any other onboard smartphone projection mode, Harman is an industry leader. Today's automakers are working closely with Harman, hoping to benefit from the technology's seamless options. We may see a resurgence in car-based apps. Yet these apps will be more centric to already-included modern model Bluetooth connections.
The driver always comes first, and wireless smartphone connectivity has been teased for a while. Drivers can now check out the BMW 5 Series Sedan, taking a gander at the industry's newest direction.