Whether you're an avid golfer or you actually drive a golf cart as your mode of transportation, your smartphone or tablet comes in handy on the cart. On the green, you might use an app to keep score, analyze your swing or take pictures. While driving around your community, you might use your phone or tablet for GPS navigation, streaming music or hands-free talking.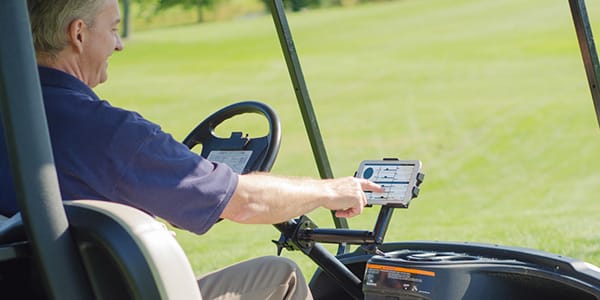 Mounting your phone or tablet is easy with a ProClip Golf Cart Mounting Solution. From magnetic and suction cup mounts to custom fit solutions, we have a range of mounting setups for the casual player, the die-hard competitor or the golf course owner looking to add mounts to a fleet of rental carts.
Golf Cart Mount with Tablet Holder
For the golf enthusiast, this custom Golf Cart Mount with Tablet Holder (shown above) keeps your tablet securely mounted while you drive around the course. Also ideal for course owners looking for a solution for their rental carts. Watch below to see how easy installation is!

Suction Cup Mount with Top Support and Phone Holder
For a quick and easy-to-install solution when using a rental cart, our Suction Cup Mount with a Phone Holder and Top Support provides a secure hold on the windshield of the golf cart. It features a quick release tab that makes it easy to take on and off. Your custom Phone Holder attaches to our Suction Cup Mount and stays securely in place over even the roughest terrain with our Top Support.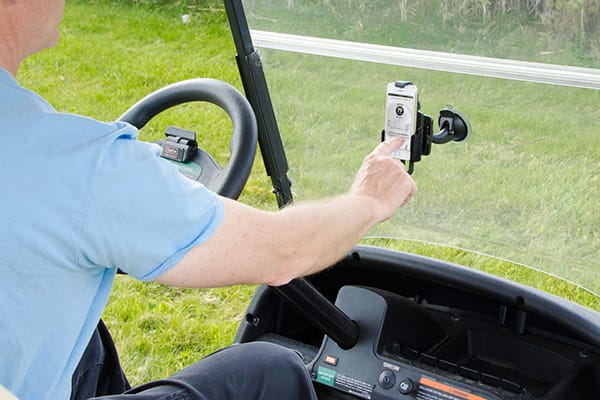 Strap Mount with Top Support and Phone Holder
For this golf cart phone mount option, simply attach our Strap Mount around a pipe or pole within the golf cart. For an easy transition from your car to the golf cart, our Locking Move Clip allow you to move your phone holder from one mount to the other.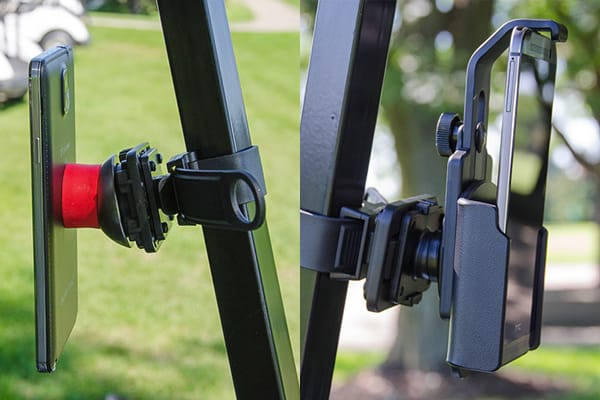 Strap Mount with iOauto Pro
For a more universal solution that will fit many different phones, our Strap Mount can also be used with our universal, magnetic phone holder, the iOauto Pro. Use it with your phone one day and a small tablet the next. This versatile solution provides a strong hold, even while you cruise around the course.