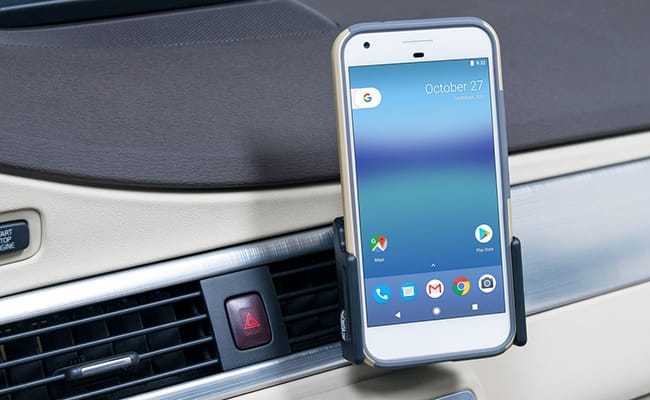 Why Choose the Google Pixel XL
Did you see our recent Google Pixel review? If you're deciding between one of Google's new flagship smartphones and a car mount to go with it, you'll want to read on to see what the phablet-sized Google Pixel XL has in store for its users.
While both Android phones are getting great reviews, the specs between both devices differ slightly. The Google Pixel XL features several key differences:
A larger 5.5-inch AMOLED, 2560 x 1440 display
Longer-lasting 3,450 mAh non-removable battery
Increased pixel resolution at 534 ppi
Higher price tag at about $769
Justifying a larger display and better battery might be hard for some, yet at less than a $100 difference in price, the improved Pixel XL features may be just what you are looking for. Keep in mind, both phones offer the same sleek design, Android 7.1 functionality, and a robust Google Assistant to keep you organized throughout your day.
Google Pixel XL Universal Car Mount Phone Holders
If you're switching over to the Google Pixel XL for what reviewers are calling a "pure Android experience," you might consider another optimal experience with ProClip USA car mounts and phone holders. Many who pick up the new Pixel XL will also be using a case on their phone. Finding a car mount that works well with different sized cases can be a feat all its own. That's why at ProClip USA we have taken to time to hand pick phone holder options that will work best with the case you choose to protect your device. Below are four of our universal, adjustable phone holder options that work best with the top Google Pixel XL phone cases. Like all of our car mount phone holders, each holder is crafted from high-quality materials so your phone stays safe and in perfect view.
Google Pixel XL Phone Holders for Small to Medium-Sized Cases
Our first option, a Medium Universal Adjustable Holder – T1 (item #246807), is angled for optimal viewing. Switch the holder from portrait to landscape view when using GPS navigation from your phone. Adjust to the size of your phone case with our secure, spring-loaded design. Below are top cases for Google Pixel XL that we have tested with this holder. Have another small to medium-sized case you'd like to use? Check the dimensions of your phone with the case on to ensure a great fit.
Incipio DualPro
Speck Presidio Grip
Spigen Neo Hybrid
Otterbox Commuter
---
Google Pixel XL Phone Holders for Rugged Cases
A new smartphone is an expensive investment, so if you prefer to protect your Pixel XL with a more rugged phone case, we have you covered there as well. Our second option, a Large Universal Adjustable Holder – T2 (item#246830), is also angled and can be positioned from portrait and landscape view, and works great for large, rugged cases, such as the popular Otterbox Defender case. If you are considering protecting your device with another rugged case, please check the dimensions of your phone with the case on to ensure a good fit.
Google Pixel XL Custom Phone Holders
Prefer to keep your phone's sleek design out for everyone to admire? If you prefer to use your phone without a case, our custom holders are for you! Our custom holders are designed to fit your phone's exact dimensions for a perfect fit. While these holders take a little more time to produce due to their customization, our Google Pixel XL phone holders will be available shortly. Sign up to be notified when both our custom Google Pixel and Pixel XL phone holders are available for purchase.
Custom Dashboard Mounts
ProClip mounting solutions are known for their incredible fit. Our adjustable and custom phone holders will keep your phone safe, and our custom dashboard phone mounts will keep it in place. Just like our custom phone holders, ProClip custom dashboard mounts are designed to fit the exact dimensions of the vehicle it is used in. In fact, they will appear as though they actually came with your vehicle. Once you pick out the right holder for you, you will want to select a dashboard mount to use in your vehicle.