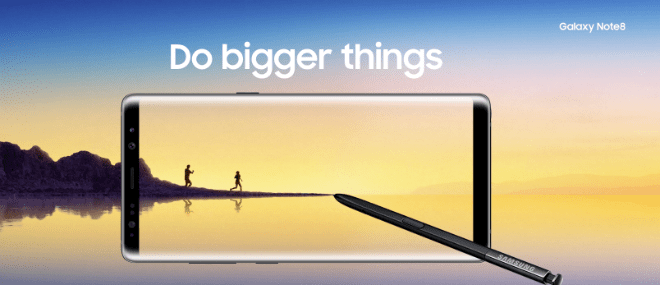 Still reeling from the Galaxy Note7 debacle, Samsung's August 23rd Galaxy Note8 press event was a celebration of everything that has gone right with the brand — and ideally a step towards the brand's recovery.
The New Specs of a Galaxy Note8
Large 6.3 inch screen. The Galaxy Note8 is embracing its size with a 6.3 inch screen, much larger than its predecessor's 5.7 inch format. With a size approaching tablets rather than phones, the Galaxy Note8 is also able to pack in additional technology.
Dual rear facing cameras. The Galaxy Note8 has both a telephoto lens and a wide angle lens, both weighing in at 12 megapixels and providing for crystal clear shots for everything from portraits and landscapes.
Newly advanced stylus. A thinner and lighter stylus is designed for some clever GUI tricks, such as the ability to create animated

GIFs

and enhanced pressure sensitivity. Though this may seem like a gimmick, it may improve functionality in a variety of ways, making it easier to jot down notes and share them with others.
Bixby. Earlier in the year, Samsung released information about its personal assistant: Bixby. Bixby now has a dedicated button on the Galaxy Note8 and can be launched with voice activation, a sorely desired feature.
Harman headphones. Harman headphones are going to be included with the Samsung Galaxy Note8; sophisticated headphones that "can be plugged in."
Wireless charging. A small 3,300 MaH battery that can be wirelessly charged is included with this model of the Note, with additional insulation to protect from overheating issues.
Biometric security. Finger, face, and iris security will all be included as biometric options, making the Note one of the most secure personal devices available on the market.
10 NM processor and 6 GB of RAM. The Galaxy Note8 has powerful specs and has 64 GB memory onboard with an expandable slot up to 256 GB.
Pre-orders have started for the Samsung Galaxy Note8 and the phone will begin to ship on September 15th. Though the prices are not yet available, those interested can inquire with their phone companies. Stay tuned for additional information regarding the Note8's features.