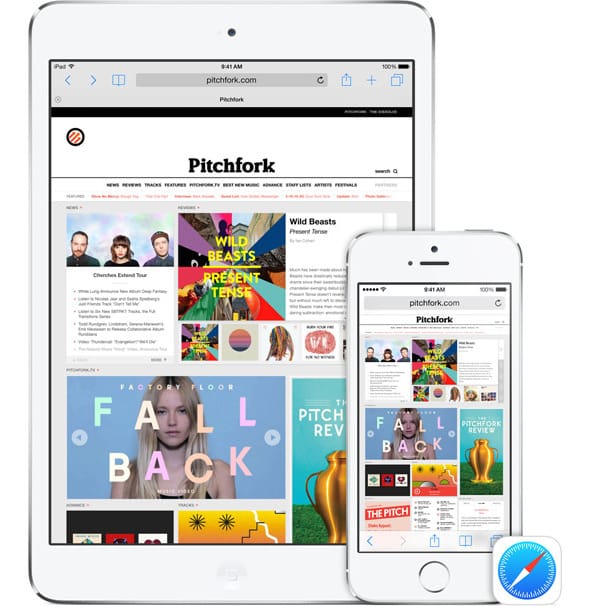 Today, September 17, Apple launched iOS 8 to the general public. Having been available to developers since the Worldwide Developers Conference in June, iOS 8 can now be uploaded to iPhone 4s and newer or iPad 2 and newer or iPod Touch 5th generation. Beginning with the summer launch, we covered a series of posts highlighting the individual iOS 8 features. With the new launch, it is helpful to go back over some of the new basic features to help users gain the most of their experience.
While the switch from iOS 7 to iOS 8 is hardly as controversially changing as iOS 6 to iOS 7, there are a lot of new feature changes that will take users a while to incorporate into their work flow. For example, a more complex Spotlight search is built-in. Most users are unaware of the Spotlight search, unless they have accidentally swiped down on their screen to reveal a search bar.
The embedded search bar in iOS 8 expands searches passed the actual device. Previously limited to a local device based search, Spotlight now enables wide spread searches. For example, searching for current movie titles will display both in theater movies, with a rating and nearby theaters, or existing iTunes content. Other features include news, nearby places, and Wikipedia entries.
Health is a newly included app that will gather data based on the iPhone's M7 co-processor or aggregate data from third party apps, like FitBit. The app can even keep track of things like heart rate, which will be made even simpler with Apple Watch, to release early 2015.
iCloud Drive is Apple's answer to cloud file storage. If users take advantage of Dropbox, Box, or Google's Drive app, they will be familiar with the intention of iCloud Drive. Seamlessly syncing foldering systems across both iOS and OS X, iCloud Drive can be your mobile storage solution. PDFs, images, documents, etc, can all be stored across all connected devices.
Third party keyboards are an option for the adventurous. Long an option on Android devices, options like swipe-to-type interfaces can be added to iOS 8. The ability to swipe from letter to letter without the need to peck out each key can provide a quicker input option. Additionally, iOS 8's built-in keyboard will provide predictive and contextual auto-complete suggestions. Using the conversation context in an iMessage conversation, the keyboard can suggest words to one tap enter.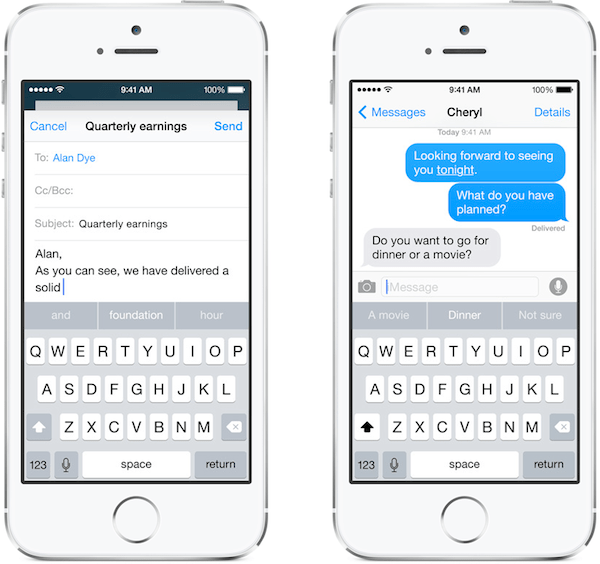 Messaging can now provide the ability to quickly grab photos or video, even audio clips. Selecting either the camera (left) or microphone (right), users can determine which interactive options they prefer, other than typing. Also, quick reply can be initiated from anywhere on the phone, including the lock screen. This means the messaging app does not need to be open to reply, preventing needless switching between apps.
Finally, Photos.app received an overhaul with added photo editing options. Rearranging photos has been made easier and individual tweaking ability is added. Adjusting light, color, and filters can now be accomplished natively through the included app. Time-lapse is also an option, in addition to slo-mo.
iOS 8 can be downloaded now from your iOS device through the settings app. Alternatively, sync your iPhone with iTunes and the upgrade option will be available. For specific details, visit Apples support page on "Update your iPhone, iPad, or iPod touch." As a friendly reminder, it is always safest to backup your device prior to updating and make sure your device is on a reliable WiFi network.