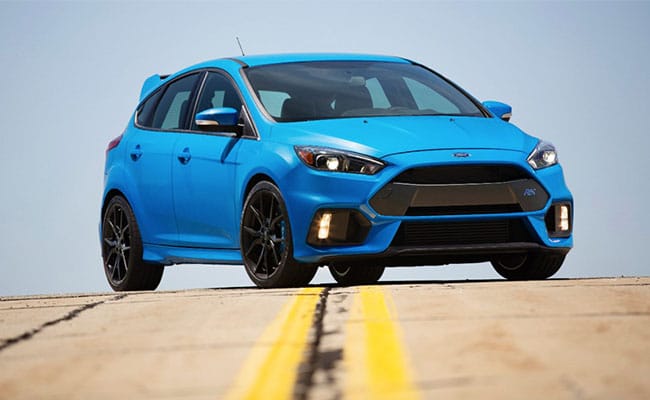 (Image via Ford)
When it comes to efficiency, quality, and reliability, dubbing an industry newcomer a top-dog competitor doesn't come lightly. The new Ford Focus RS is here, and it's been praised by hardcore small car lovers across the nation. Comparable to the Subaru WRX STI and the Volkswagen Golf R, the Ford Focus RS seemingly surpasses the auto world's expectations while remaining an incredible contender.
The Right Place, and the Right Time
The RS's popularity can't be discounted, but it's certainly the result of good timing. The Ford Focus RS is Ford's latest in its RS-badged fast vehicles. Ford's RS lineup, in the past, served up top-quality electrical performance on the manufacturer's version of a silver platter. That said, the Focus RS is one of Ford's most affordable RS inclusions—making it a much-welcomed market entry.
Under the Hood
The Ford Focus RS isn't all show, either. Powered by a tuned-up version of a Mustang's EcoBoost turbo engine, 2.3-liter and four-cylinder, the Ford Focus RS benefits from the turbo engine as it's channeled through a four-wheel drive system. It's a six-speed manual, and it feels like it's rear-driven. With launch control, adaptive dampers, rear wing support, and accessibility paralleled only by the Ford Focus's five-door, the Focus RS has a solid bang for its buck.
Where is the Market Going?
The Focus RS's hype is comparable to the Focus ST, which is similarly desirable. That said, the RS stands up to big-name competitors, like the Volkswagen GTI, the Honda Civic Si and the Subaru WRX. Whereas the Focus ST is an all-around win, drive-wise, the Focus RS offers an edgier, high-performance design.
Ford has been working on the Focus RS for a while. In its previous form, Ford wasn't allocating all of its resources to it. Its "small car performance" docket was divided. Drivers are pleased, however, to have the new RS's 0-to-60 leap in 4.6 seconds. The RS has an active launch mode, and its clutch and shifter are smooth. The Focus RS is far more than a compact hatchback. In some ways, it's even viable as a drifter.
The small car world hasn't experienced a high-powered experience in a while. Now, the Focus RS is creating the enjoyable experiences drivers love. While the RS does carry a $40k price tag, it's certainly worth the purchase. After all, smaller cars need to compensate for a general lack of interior amenities. The Ford Focus RS might be small, but buyers certainly get their money's worth.