The Ford Bronco is Back!
The legendary Ford Bronco has been revived. One of the most popular SUVs of all time is back with a fresh new look all while maintaining that classic style. The 2021 Ford Bronco will be available in both 2-Door and 4-Door, as well as the introduction of the brand-new Bronco Sport crossover. While the new Bronco and Bronco Sport won't be hitting the roads until sometime in 2021, there's plenty to get excited about.
Powerful and Off-Road Ready
The Bronco has always been an off-road vehicle, and the new Bronco is built to keep that tradition alive. It sits on a boxed high-strength steel frame with an independent front suspension with twin alloy A-arms and coil-over springs, while the rear is a solid axle with five links and coil-overs. Ground clearance and approach angles depend on the exact trim level and body style, but the Bronco is ready and able to compete with the Jeep Wrangler.
Under the hood in the base Bronco is a 2.3L turbocharged four-cylinder engine. It's the same engine you'll find in the Ford Ranger and can produce 270 horsepower and 310 pound-feet of torque. The Bronco makes waves with an upgraded 2.7L turbo V6 producing 310 horsepower and 400 lb/ft of torque. The standard 2.3L engine comes standard with a 7-speed manual transmission or a 10-speed automatic, while the larger engine is only available in automatic.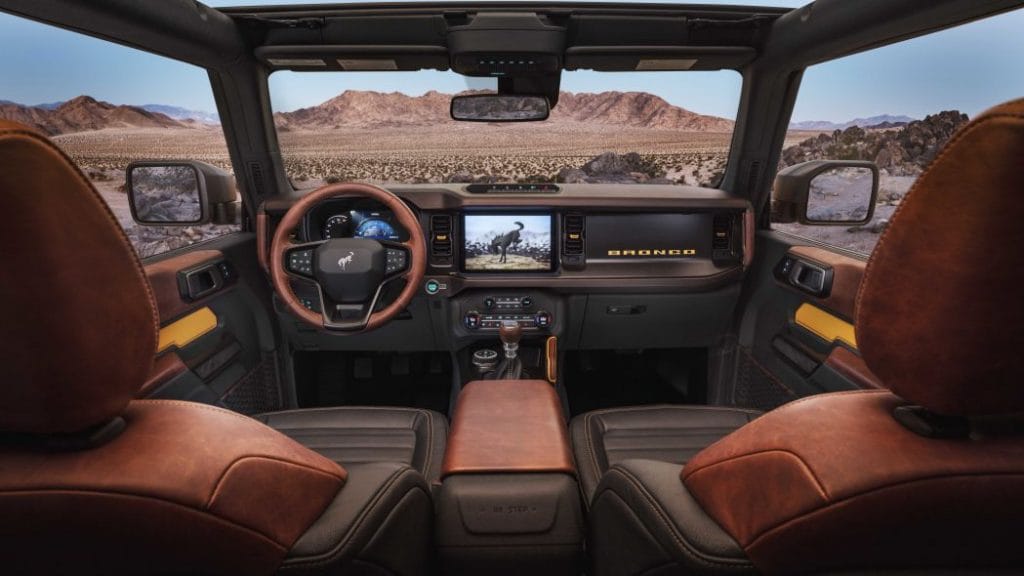 Teaching the Ford Bronco New Tricks
Ford has given the all-new Bronco some impressive technology to make off-roading easier than ever before. Seven terrain-specific modes are offered, as well as Trail Control, a low-speed off-roading cruise control system. A 360-degree camera system that includes cameras at each front wheel plus more than 1,000 topographic trail maps that work without internet access can help the Bronco stick to the mantra of Go Over Any Terrain. On the dash, Ford has included a standard 8-inch touchscreen and an optional 12-inch touchscreen equipped with SYNC 4 software.
The Base Bronco starts out at $29,995, while the Bronco Sport starts at $28,155. You can make a reservation for just $100. Production is slated to begin in Michigan in early 2021 with deliveries in late spring.
ProClip Mounts for Ford Bronco
As always, ProClip USA will be producing custom vehicle mounts for both the Bronco and Bronco Sport. If you're looking for the best way to keep your phone, GPS or other mobile device safely mounted when you're heading off road or cruising around town, sign up now to be notified as soon as custom ProClip mounts are available.