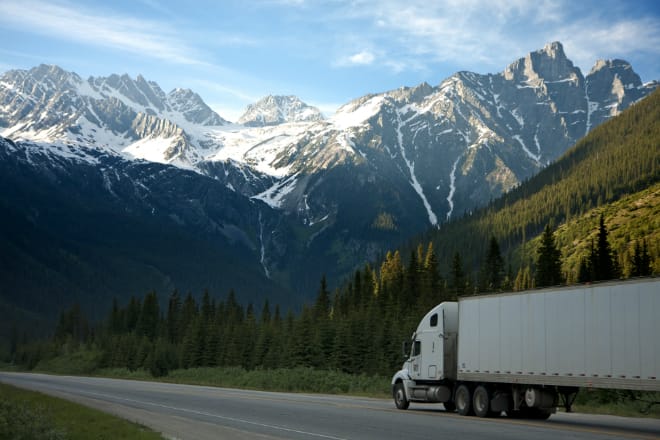 This year we've seen snow as far south as Florida, which means some owner operators may not be prepared for the winter weather. Whether this is your first winter as a truck driver or you simply want to learn new ways to keep your big rig rolling in all temps, we've got you covered. Here are a few things you can do to maintain your fleet truck this winter season.
3 Ways to Maintain Your Semi Truck This Winter
1. Do Regular Checkups
Snow slush, brine mixes, and road grime are detrimental to the lifespan of your vehicle. Here are some ways to minimize the effects of this wintry mess:
Keep your vehicle washed once a week to remove this corrosive material.
While the wheels are visible after a wash, conduct a thorough brake inspection. Even the latest model autos featuring ABS need to be checked for wear and tear.
Your windshield wipers also see the adverse effects of snow and ice. Wipe these weekly to remove any grit that could scratch your windshield. Consider investing in automatic heated windshield wipers or winter wiper blades if your semi truck will be operating in icy conditions on a regular basis this winter.
2. Invest in Battery Blankets
Cold temperatures and car batteries do not mix. This includes batteries in passenger cars, as well as in Class 8 diesel trucks. Whatever your fleet operations, make sure your battery is well within the typical lifespan. Replace as needed and be sure to check for corrosion.
Then invest in a battery blanket. These blankets are designed to fit around a battery and within a battery cover. Just like an electric blanket, you plug the battery blanket into a wall outlet. This keeps the battery just warm enough to ensure a steady start no matter how far the mercury falls.
3. Improve Mobile Accessibility
Between all of the gadgets fleet drivers use to stay on the routes this winter, they need a durable mounting system. Attach navigation systems, ELD tablets, and cell phones within reach and in plain sight. Drivers can maintain their visibility on the roads and use these devices for emergencies—without being distracted.
Machine and hand-tooled mounting systems by ProClip USA provide this solution with top quality products for fleet vehicles. Check out ProClip USA for more information about fleet phone mounting solutions.