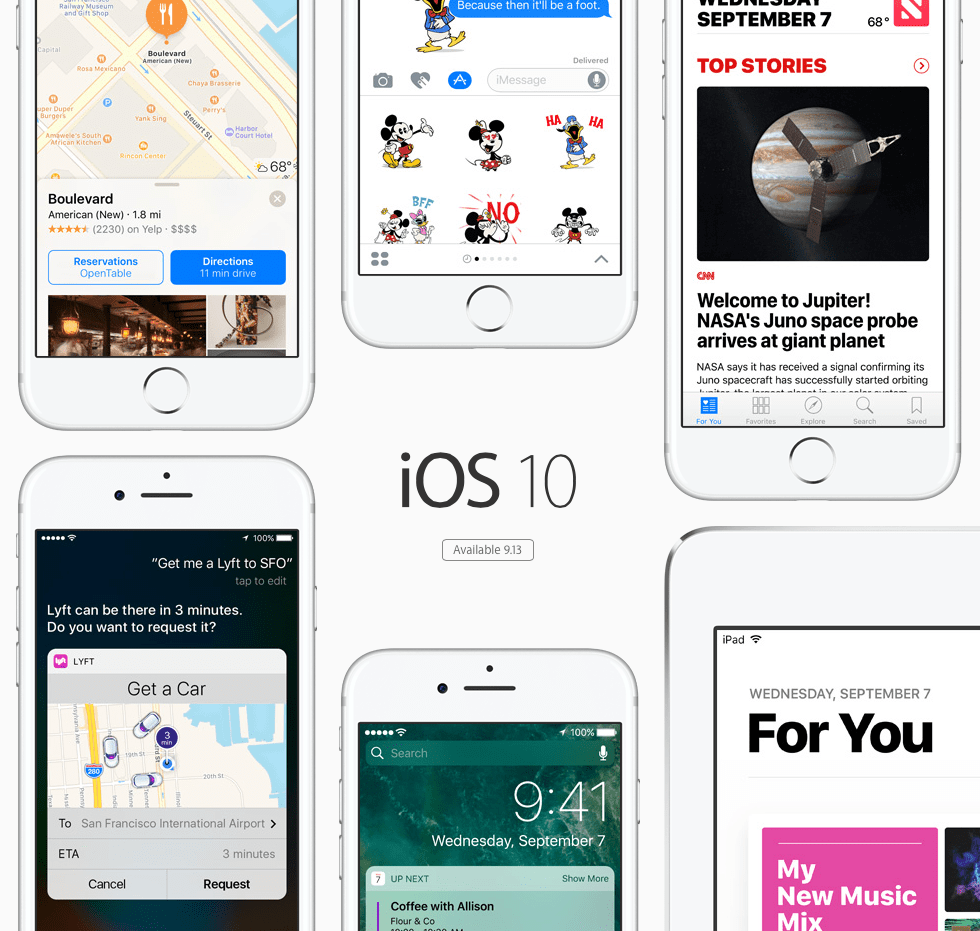 Tuesday, September 13, Apple released the public version of iOS 10 for iPhones and iPads. Since the Apple Worldwide Developer Conference in June, iOS 10 was in beta programs for both developers and private registrants. The newest version of Apple's mobile operating system, iOS 10, rounds out many additional features and stabilizes the previous iOS 9.3.5 experience. Many of the features are specific to iMessages, but step inside for a breakdown of the major enhancements throughout the platform.
iOS 10 iMessages
Many of the new features, highlighted in the video above are specific to iMessage. Instead of just allowing users to communicate through text, the new iMessages update includes the ability to connect with many other forms. For example, you can now send a heart beat, just like Apple Watch! Or, you can physically draw a response, like your signature or a love note. When you use certain words, the background of the app will 'explode' into life, with items like fireworks or confetti. You can also use a feature called 'Invisible ink,' which hides your text or image until the receiver taps to reveal the message.
Additionally, picture-based correspondence is enhanced. Users can now send interactive images, by selecting a photograph and then adding live stickers or filters. In the main conversation string, users can also place stickers onto the conversation board with built-in options or by downloading a sticker pack from the new iMessages store. Stickers can be simple small images, or even interactive gif responses.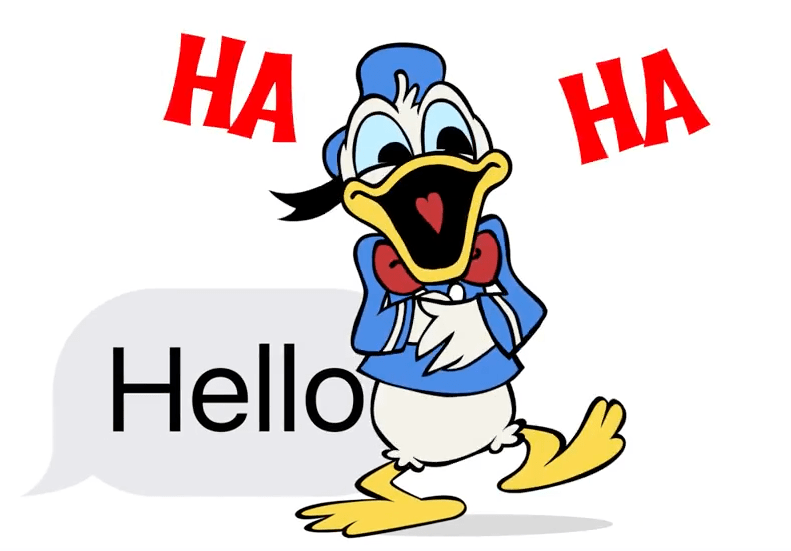 If you are an emoji fan, iOS 10 now recognizes emoji words and allows you a tap-and-replace option. For example, if you use the word "taco" in your message, the word "taco" will change color, indicating you can replace the word with emoji. Tapping the word then turns the saying into the taco emoji. Perfect!
Apps for iMessage is now an option. Think of this like a plug-in for iMessage. For example, if you are hoping to use .gif, animated images, in your conversation, install the Giphy app for iMessage and you can search for, find, and add them to your conversation–all without leaving iMessage.
Additional Enhancements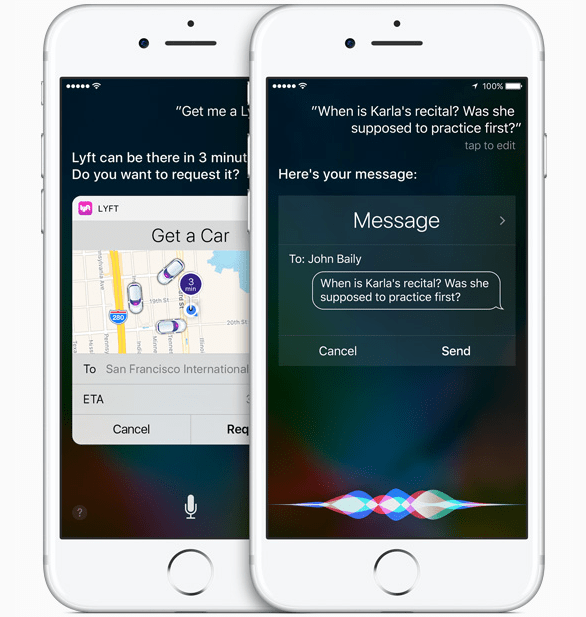 Siri is now accessible from other applications, thanks to an open API released by Apple, also during WWDC 2016. With this new access, third party developers can use Siri to leverage in-app actions. As seen in the screenshot above, Lyft is now using Siri as a way to hail a ride. By invoking Siri, even from the Lock screen, saying "get me a Lyft ride," Siri will leverage the app, using the Siri API, pull down a ride from the app, and show you that information directly in an interactive card.
When typing, the keyboard suggestions are now deeply integrated in the system via QuickType. For example, when typing someone's name, that is stored in Contacts, it will also suggest populating contact details, like phone numbers or email. Maps will be able to offer suggestions for daily routine drives, like from home to work and back. Additionally, Maps will allow you to search for points of interest along a navigated route. Raise to wake will turn on the screen when you pick up your device and highlight new interactive Lock screen notifications. The new notifications allow interaction straight from the Lock screen, without the need to unlock the device and find the app directly. Photos can also search for content, instead of just dates and albums. For example, searching Photos for "mountains," will return pictures from your library that include actual mountains.
To upgrade your device, simply navigate to the Settings app (gray icon with gears), choose "General," then "Software update." If your device is not already prompting you to upgrade to iOS 10, you can check for the upgrade manually. Before upgrading, ensure that you backup your device to a computer via iTunes or iCloud from your device. While it is exciting to get the newest update, waiting a short time for the first update, iOS 10.0.1, typically ensures the launch day bugs are squashed.