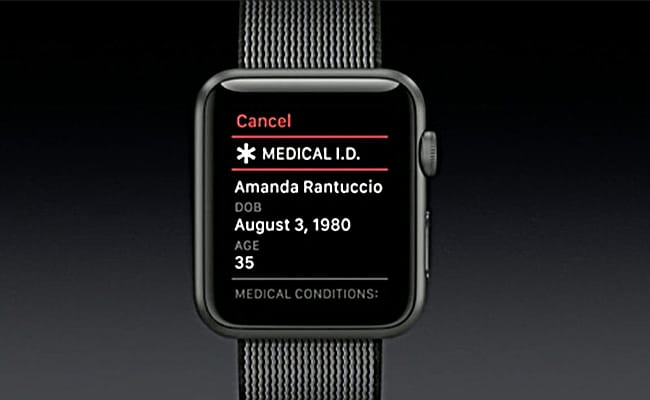 (Image via Digital Trends)
You never know when you might need to summon help while out and about, which is one reason why people typically carry smartphones with them everywhere they go. If you are the owner of an Apple Watch, you have another piece of safety gear that could prove invaluable in a crisis.
It's your choice to enable either the one-touch option or to select the multi-touch option to activate the SOS feature on your Apple Watch Series 2.
Connection Required
You can use SOS on your Apple Watch Series 2 to call for emergency assistance via the cellular data network as long as your iPhone is nearby, noted Apple. Otherwise, the connection will go over Wi-Fi.
Emergency Wi-Fi calling from your Apple Watch requires you to make a settings adjustment. Tap "Settings," then select "Phone" and then tap "Wi-Fi Calling" and follow the prompts.
In the event that your iPhone is too far away, preventing you from connecting via the cellular network, the Apple Watch will automatically connect to a known Wi-Fi network (that your iPhone has previously connected to), noted iMore. It can also link up automatically via any public 802.11b/g/n 2.4GHz Wi-Fi hotspot that doesn't require a login.
Activating SOS on Your Apple Watch Series 2
First, add up to three optional emergency contacts by launching the "Watch" app on your iPhone. Tap "General," then tap "Emergency SOS" and then select "Add SOS Contact." Your contacts will be automatically notified whenever you use SOS on your Apple Watch. At the same time, emergency responders will receive your GPS location and any medical conditions details you provide.
The SOS feature on the Apple Watch is set by default to activate when you press and hold the Side button and then swipe "Emergency SOS" in multi-touch mode.
Press the Side Button on your Apple Watch and hold it. You will see the Emergency SOS option under the "Power Off" icon. Swipe to the right on the Emergency SOS slider to activate it and call for help.
To enable one-touch emergency requests for help, access the Watch app on your iPhone. Tap "General" and then select "Emergency SOS." Slide the "Hold to Auto Call" toggle to "On." You can still press and hold the watch's Side button during a crisis, but now you have an easier option. Press and keep holding the Side button and the SOS slider will start filling up over three seconds before automatically calling for first responders.
While it's not pleasant to imagine being in an emergency situation, planning ahead about what you will do and knowing that your Apple Watch Series 2 is capable of calling for help through cellular data networks as well as Wi-Fi networks should give you some peace of mind.