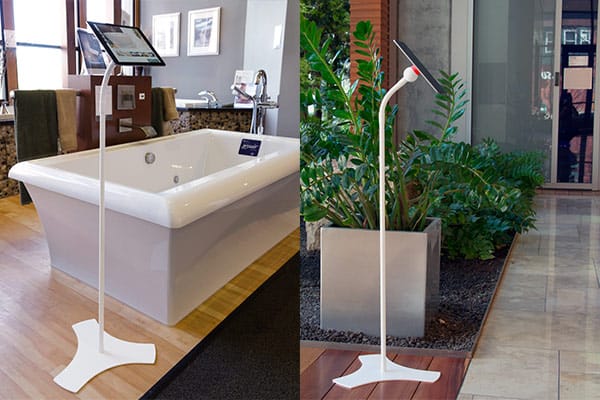 Many organizations rely on iPads to help run their operations as well as provide information to visiting customers and clients. If you have deployed iPads in your business, you may have instructed your staff to carry the devices with them to show people details about your goods or services. We've seen how an iPad can serve as a sophisticated point of sales device, eliminating the need to make patrons stand in line to make their purchases.
Just because the iPad performs well as a mobile device, it doesn't mean you have to carry it around with you to get a great deal of value out of it. Keeping the iPad stationery lets you use it to replace old-fashioned printed brochures, product specification sheets and other content that must be frequently updated.
Now, you can mount iPads on floor stands in your establishment and start engaging more with every patron.
Multiple Uses for iPad Floor Stands in Your Establishment

Whether you manage a small to medium business, run an organization like a museum or otherwise maintain a facility that provides information to the public, using a tablet like the iPad with a floor stand provides a number of benefits.
For example, with an iPad floor stand, you can give patrons easy access to promotional or technical information on products. The iPad's high-resolution screen lets you show your products in action and footage of your services.
When connected to the Internet over Wi-Fi or a cellular data provider, you can quickly update information on your iPad, such as the latest catalog offerings or a new use for a product.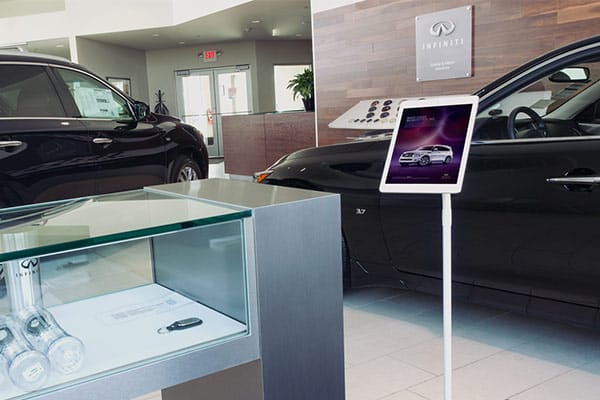 Why Use iPads to Provide Information to Guests
If you haven't yet deployed iPads in your organization, these are the main reasons for using them now:
Gives people convenient access to more information than you can provide through printed materials
Doubles as a POS unit to make purchases more convenient
Easy to update details, such as price changes or additions to the catalog
Interactive iPad helps to better engage with customers
It's never been so easy to provide customers and guests at your establishment with information (text, images, sound and video) about the products and services you provide, using nothing more than an iPad that is mounted securely to an iPad floor stand. Workers can do their jobs more effectively if customers consult the iPad first to answer their basic questions and then follow up with specific inquiries with your employees.