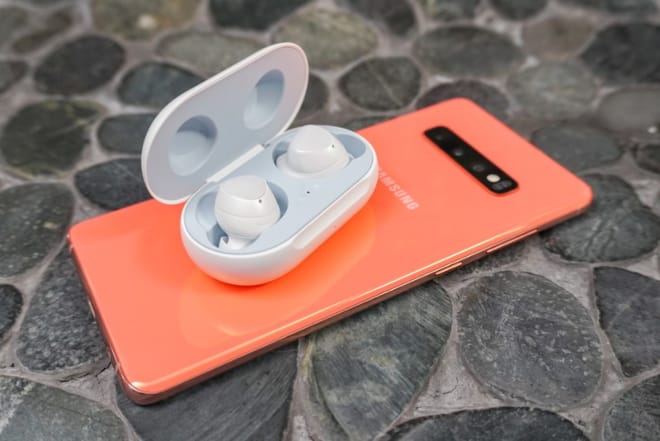 Samsung is making bold moves this year with the trifecta of the Galaxy smartphones, Galaxy Fold and Galaxy Buds (not to mention also-announced wrist devices). The third member of this trifecta is a direct competitor to Apple's AirPods — and it's one that's worth serious consideration. For perhaps the first time ever, the AirPods may have met their match in the Galaxy Buds.
Professionally Tuned Audio by AKG
Although most reviewers haven't yet heard the Galaxy Buds in action, they promise to deliver uncompromising sound thanks to professional-grade tuning by AKG. In addition to excellent overall acoustics, the earbuds will also feature Enhanced Ambient Sound and an Adaptive Dual Microphone. The former makes it easy to hear one's surroundings while wearing the earbuds, and the latter ensures that vocal sounds are conveyed clearly in both quiet and loud environments.
First-Ever Standard Wireless Charging
Firmly setting itself apart from Apple's AirPods, the Samsung Galaxy Buds will come with wireless charging out of the box. There's no need to purchase a separate wireless charger (as the AirPods require), for the standard charger will refill the battery when placed on any compatible Qi charging station. Don't have such a station? Just use the Samsung Galaxy smartphone's built-in power-sharing feature.
On a single charge, the Galaxy Buds will last for five hours if having a conversation and six hours if streaming music. Bixby integration is included, so it's easy to make calls, send texts and check the battery's charge.
Samsung's Smallest Earbuds Yet
Compared to previous earbuds, these are Samsung's smallest yet. They're 30 percent smaller and lighter than their predecessors, and the wireless charging pod is the closest in size to the AirPods' standard charger.
Priced Well Below Apple AirPods
Most impressively, Samsung has accomplished all of this while keeping the price point well below Apple's. The new Galaxy Buds will retail for $129.99, which is $19.01 cheaper than the AirPods' MSRP of $159.00.
The Galaxy Buds will be available starting March 8, and everyone who pre-orders a Galaxy S10 or Galaxy S10+ will receive a complimentary pair of the earbuds. They'll come in yellow, white and black.