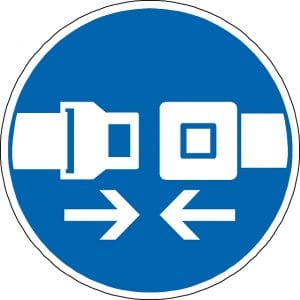 ProClip acknowledges the importance of driver safety. It has been our priority to design products that help to reduce the safety risks associated with unsafe driving habits. Our products create a safe, hands-free driving environment, eliminating the need to fumble for your phone or device. We know that safety is important to you and your family. That's why we are dedicating a series of blog posts to discuss all aspects of safe driving, such as vehicle safety features, assertive driving habits, hazardous road conditions, child safety features, state specific safety laws, vehicle recalls and emergency response. We hope you find this information valuable and we look forward to providing you with specific information that creates safer roadways.
The Importance of Wearing a Seat Belt
The most important thing you can do to create a safer environment in your vehicle is to wear your seat belt. In 2012, an estimated 12,174 lives were saved due to safety belts, according to the Insurance Institute for Highway Safety. Thankfully, seat belt usage is on the rise; 88% of people in the US buckled up in 2009, compared to only 69% in 1998, according to the National Safety Council. The NSC also states that between 2004 and 2008, safety belts saved more than 75,000 lives.
Drivers Less Likely to Buckle Up
Some groups are less likely to wear safety belts than others. Only 80% of teen and young adult drivers, age 16-24 years old, buckled up in 2008, according to the National Highway Traffic Safety Administration, making them the least likely age group to wear a seat belt. An unfortunate and related statistic from 2009 showed that more than half, 56% of this group, involved in a fatal crash were not wearing a safety belt. Other groups less likely to buckle up are commercial drives, males in rural areas, pick-up drivers, people driving at night and people who have been drinking.
Seat Belt Laws
One thing that has helped increase the usage of seat belts has been state seat belt laws. In fact, 49 out of the 50 states have seat belt enforcement; New Hampshire is the only state without a seat belt law. In states with a seat belt law, usage is 13 percent higher. A 2009 NHTSA study states that if seat belt use rose to 90% in every state, an additional 1,600 lives could be saved and 22,000 injuries could be prevented. Currently, 31 states have primary enforcement of seat belt laws. This means that you can be pulled over and given a citation just for failing to buckle up. 18 states have secondary enforcement of seat belt laws, meaning that you can only be cited for a seat belt violation if you were pulled over for another reason. Please visit the NSC's website for a state comparison chart of primary vs. secondary law enforcement and how they correspond with usage rates.
Be safe and buckle up!