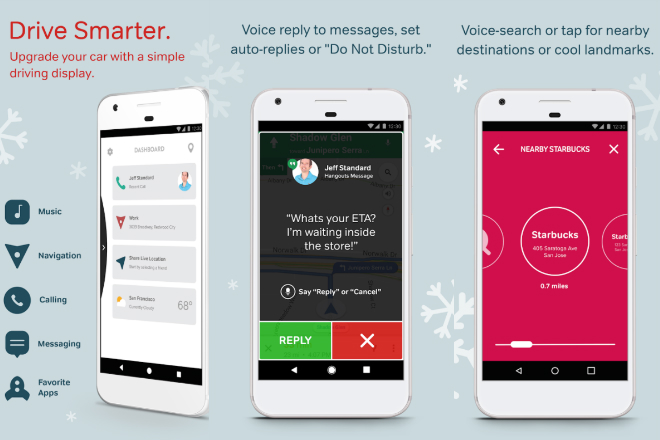 By now, thanks to public service messages and alerts about how it is illegal to text while operating a motor vehicle, most people should be aware of the dangers of distracted driving. Sitting in the driver's seat, you have to devote your attention to the road ahead and the other drivers around you at all times. However, it can be tempting to want to pick up your smartphone while you are en route, such as to check an incoming text message, email or an update in your social media feed.
According to the United States Department of Transportation, distracted driving was responsible for 3,477 deaths in 2015 (the latest available statistics). You do not want you, a relative or friend to become another one of these statistics.
This is where the DriveMode app can help.
How to Use the DriveMode App
The DriveMode app is designed to simplify your phone experience while on the road. It provides a range of voice control commands to help you finish tasks while keeping your eyes on the traffic ahead of you.
For example, you can use your voice to reply to a text message. For times when you are too busy to reply or when it is unsafe to pick up your phone, you will set the DriveMode app to be in "Do Not Disturb" mode. It can respond on your behalf, giving people a pre-written message, such as to say you will reply only when it is safe for you to pull the vehicle over.
DriveMode features large buttons to make it easier and faster to switch from one application to another with tapping and swiping gestures. It integrates with navigation apps such as Waze and music apps such as Spotify and Pandora.
If you find DriveMode to be so useful that you always want to run it in your vehicle, you can configure it to launch automatically whenever you begin driving. Over time, the app will build up details about your driving history, which you can review at your leisure.
Safer Driving Experience with DriveMode App and ProClip
Anyone who is tempted to use their phone while in transit will clearly benefit from using DriveMode. With that in mind, ProClip can make being on the road even safer for you and your passengers when you use a car phone mount to keep your smartphone firmly secured to the dashboard. It's easy to install (in less than 3 minutes) and causes no damage to your dash. This means no more fumbling for the device, such as when you want to pull over and make a call.