For those of you who have been waiting for a device holder for your Motorola Droid 4, the wait is over! We are rolling out new products this week, and this model is top on the list.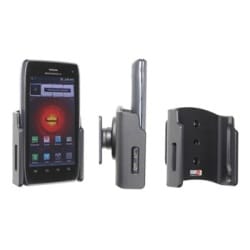 Motorola Droid 4
Many of you probably rushed out to buy a flashy new Motorola Droid 4 and have been waiting anxiously for a device holder so you can proudly show that gadget off by mounting it on your vehicle's dashboard for all to see, right? Well, maybe you're a little more modest than that, but hey, it's a great phone.
.
Good news. We have 4 types of device holders for Droid 4. You can find the perfect holder based on your desired features and price point.
Maybe you spend a lot of time in the car, so you need a charging holder. We have those.
If you prefer non-charging designs, we have those too.
The charging holder is available in a cigarette lighter adapter version or in a straight power cord option for fixed installation.
Do you like using a case with your phone? No problem. The adjustable holder with tilt swivel is intended to be used for devices with silicone type cases.
Make Sure You Don't Miss Anything
Keep up-to-date with new product announcements and other news.
Like us on Facebook – Over 2,000 enthusiasts get daily updates, specials and discuss topics on device mounts.
Follow @proclipusa on Twitter – Get you daily fix of news on phones, mounts and other gadgetry.