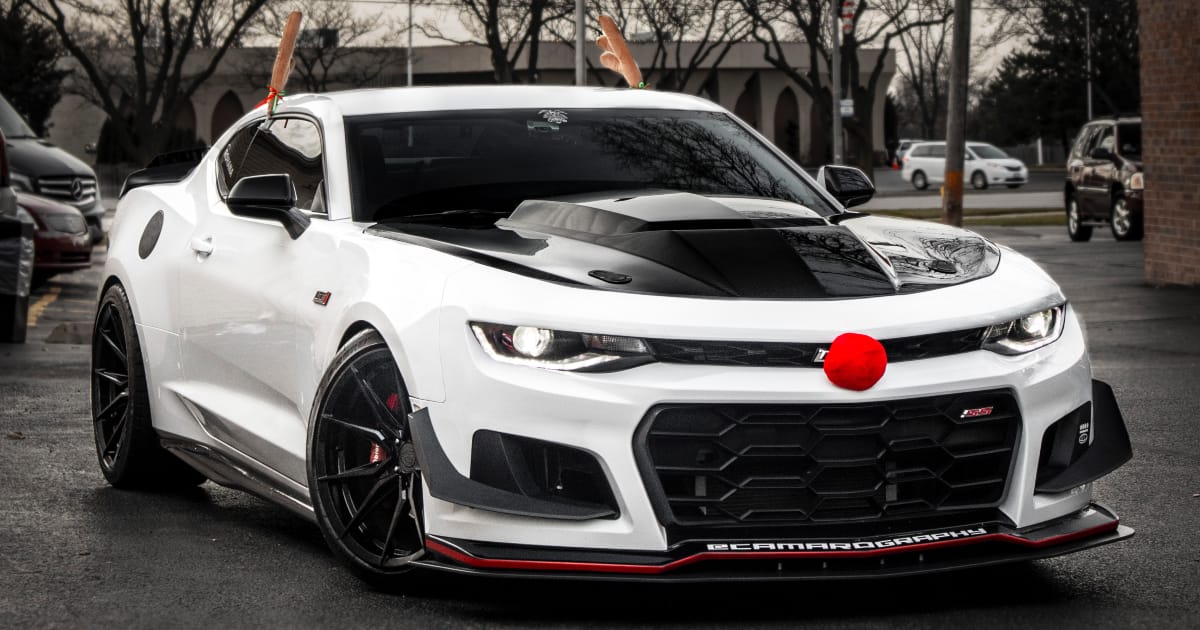 Miguel, also known as @Camarography on Instagram, owns two different Chevrolet factory vehicles: The original 2016 Chevy Camaro SS and the 2019 GMC Sierra Denali. Miguel is from Chicago, Illinois and enjoys making quality POV videos. This unique first-person vantage point puts you in the Camaro driver seat for a virtual test-drive. Thanks to his Insta360 camera, followers get a daily virtual tour of his cockpit. Tag along as he drives to work, downshifts in downtown Chicago or when cruising on the weekend other Camaro owners. His Chevy fleet features two custom iPhone 11 mounts. Miguel uses the mounts primarily for GPS, music and the Insta360 video application. Check out his Instagram for Camaro mod tutorials and unique POV videos. Save 10% off your order today using his discount code: CAMARO.
Camaro SS Specs
What makes the Chevy Camaro SS so unique? Before modifications, Miguel purchased the OEM Chevy Camaro SS with stock parts. The SS Gen 6 Camaro features a 6.2-liter V8 engine with 455 horsepower. In addition, the Recaro Racing Seats give the Camaro an extra bit of comfort fitting four passengers. After modifications, Miguel made his car drive faster, sound meaner and ride even more comfortable than before. Corsa Exhaust and some extra performance mods like racing coilovers make this Camaro fast and fun to drive. Interior mods include BlackVue DR900S dashboard camera, carbon fiber steering wheel and dual-port smartphone fast charger. Striking exterior mods include Ikon Motorsports Lip Grille BodyKit, Rear Trunk Spoiler and Rohana Wheels.
ProClip Chevy Camaro Mount
Centrally located near the gauge cluster, the 2019 Chevy Camaro Mount #855366 fits the Gen 6 Camaro from 2016 thru 2020. Positioned near the odometer, the Camaro mount keeps your smartphone within plain sight and easy reach. One eye-glance can unlock your smartphone if the face recognition is active. The 2016 and newer Camaro features two mounting locations with the second location near the passenger side console. This console mount #835232 attaches over the right knee-pad and should not interfere with your passenger leg room or any important dashboard functionality. ProClip vehicle mounts clip into the existing dashboard seams and install in 3 minutes or less. No dashboard dismantling is required and the ProClip mount will remove without damaging the dash or leaving any residue.