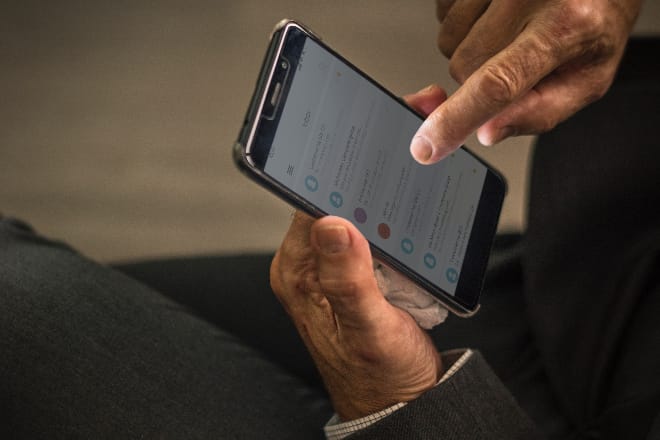 When the expectation that emails are read, sent and managed while on the go, email is no longer something you can attend to only when sitting in front of a computer. Everyone today needs to be able to manage their email while on the go. Thankfully, there are several email apps for Android phones and tablets. Here are four of the best ones.
Gmail: Straightforward and Standard
The most obvious android email app is Google's own Gmail app (free). It's pre-installed as the default email management system on most Android devices, and anyone who uses Gmail will be familiar with the interface. You can, however, also integrate the app with Yahoo Mail, Microsoft Outlook and other email services if you don't primarily use an @gmail.com address.
With a straightforward interface that's familiar and standard installation, this is a simple choice if you just need to check your Gmail account.
Microsoft Outlook: Multiple Email Integration
Microsoft Outlook (free) was one of the first major email management systems, and it continues to be widely used today with more than 3 million downloads from the Google Play store. For a platform that easily syncs multiple email addresses together, this option is hard to beat. It easily integrates with other services, including Gmail, Yahoo Mail and iCloud, and a Focused tab keeps the most important emails on top. Cloud storage is also integrated to make downloading big files easy even if you have a phone with limited device storage space.
BlueMail: Well-Designed User Interface
BlueMail (free) works with and integrates multiple major email services, as well as MS Exchange, POP3 and IMAP accounts. What sets this selection apart is its user interface. There's a configurable menu, time lock screen to shield sensitive emails from others, and Dark Mode, among other options.
K-9 Mail: Minimalistic and Open Source
If you're looking for a paired-down Android email app, K-9 Mail (free) is an open source and minimalistic alternative to the sleeker alternatives. It's fully functional with most Exchange 2003/2007, IMAP and POP3 accounts, and it has important features like multi-folder sync, signatures, filing and flagging. The app is one of the older ones, though, and its interface reflects that. A dated interface is a no-go for some, but others like the simpler retro look.
No matter which of these apps you choose, they'll serve you well while managing email on the go. Try each since they're all free, and keep your favorite.