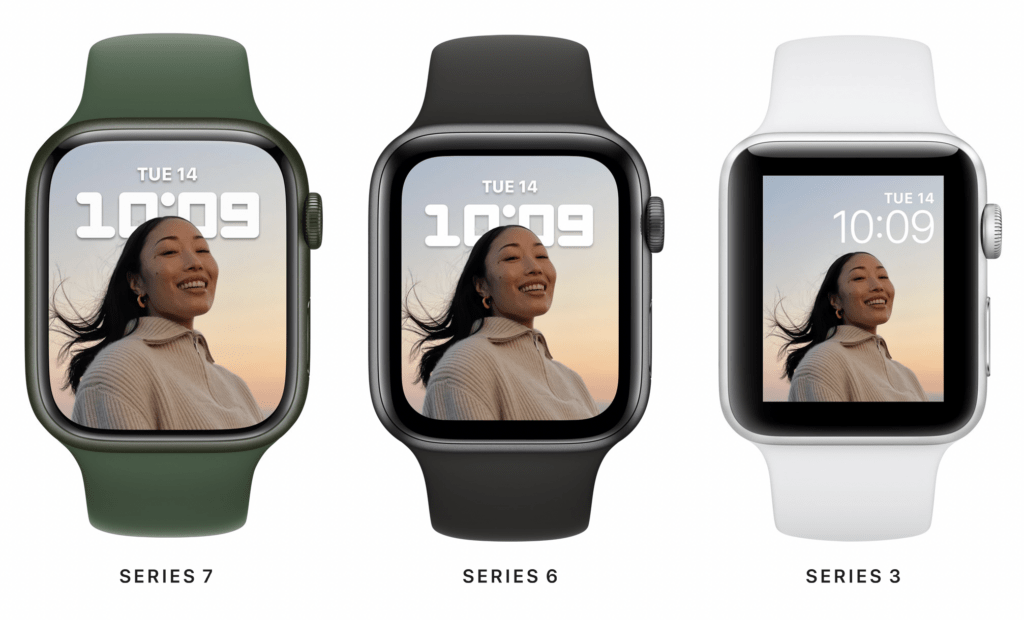 On Friday, October 15, the Apple Watch Series 7 will be available for in store purchase and landing on pre-order doorsteps. The device was announced in September and now available after supply chain updates. Apple Watch Series 7 comes with an even larger screen, upsizing the previous Apple Watch Series 4, 5, and 6.
Apple Watch Video Reviews
In addition to Apple touting the device as the "largest, most advanced display yet," it adds the "most durable Apple Watch ever." Rightfully so, as the device reduced previous generation boarders by 40%, allowing for a 20% increase in screen over the Series 6 and more than 50% from Series 3.
Taking a first look at the Apple Watch Series 7 unboxing, iJustine offers a video comparison and previous Apple Watch history in her recent video. Before taking that walk down memory lane, Justine comments that if you have a Series 6 and are wondering whether to upgrade, "if you have some extra cash… go for it." She continues stating that it is most rewarding to users that have a Series 5 or sooner.
Andru Edwards takes a dive into his review unit with a Nike Sport Loop, Marigold Braided Loop, Abyss Blue Braided Loop, and Maize Braided Solo Loop. Edwards received the Midnight color way, which like the iPhone 13 is really, deep blue, almost black. Matching, the Midnight band is also a matching deep blue, almost black. The Nike Sport loop now includes the Nike logo and swoosh logo. He discusses the new screen size, noting the Series 7 has 20% more screen real estate than the Series 6, claiming the size difference is immediately noticeable.
Brian Tong received the all new green color way. While he makes some comparisons between the Series 7 and previous generations in his video, he mentions traveling around LA for the weekend and no one noticed that he was wearing the unreleased Apple Watch. He mentions that he was not "blown away" by the 20% increase when it was announced, thinking that he was just fine with his Series 4 design. However, when he unboxed the review unit, the screen size increase became much more apparent to him. The UI elements have been modified to take full advantage of the new size. He highly recommends the upgrade for anyone using the Apple Watch Series 3 or older.
Dave2D believes the display is noticeably bigger, from the start. He notes the case is just 1mm taller than the previous generation. The extra screen space has come by simply shrinking the bezels. However, he doesn't believe the shift from the screen size on Series 6 to Series 7 is as drastic or useful as the jump from Series 3 to Series 4. He mentions the Modular Duo face, which allows for two full screen complications, was previously limited to just one on previous generations. Another screen real estate upgrade is the inclusion of a full QWERTY keyboard, allowing typing and swiping for text input.
Apple Watch Series 7 is available for order, starting from $399 in aluminum 41mm size and goes up quickly topping out at $1,759 in stainless steel 45mm, if you upgrade to Apple Watch Hermès version with Fauve Barénia Gourmet Double Tour. Apple seems to have something for everyone, given their ordering mechanism allows shoppers to pick a size, case material and a myriad of different bands and colors to math preference and budget.