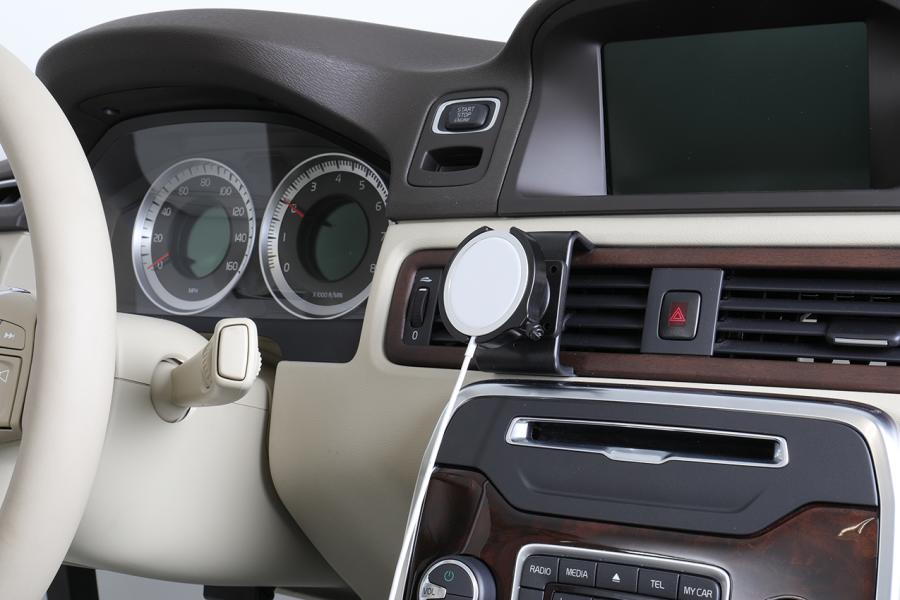 Apple introduced a brand-new charging technology with the iPhone 12 series, called MagSafe. It uses a ring of magnets built into the back of the phone surrounding the wireless charging coil. This helps the MagSafe wireless charger snap right into place and begin charging your iPhone wirelessly at 15W fast charging speeds (12W for iPhone 12 Mini). Apple has also introduced a variety of MagSafe compatible cases and accessories. Some experts believe the introduction of MagSafe could point towards a future iPhone with no ports at all.
MagSafe Car Mounts
If you're looking for the best MagSafe car mount for your iPhone, ProClip has you covered.
Start with an exact-fitting ProClip car mounting base, that's designed specifically for your make, model and year of car. It easily snaps into the seams of your dashboard for a secure fit, which means you get to ditch the flimsy vent clips and bulky suction cups.
Then attach our iPhone Holder for MagSafe Charger onto the mounting base to have the sturdiest MagSafe car mount available. You can easily angle your iPhone 15-degrees towards your seat, rotate to use in portrait or landscape mode and keep your iPhone 12 charged and ready to go.
---
Holder can tilt-swivel to angle 15-degrees in any direction
Rotate to use iPhone in portrait or landscape mode
Easily dock and undock your iPhone with one hand
MagSafe iPhone 12 holder securely attaches to any ProClip car dashboard and console mount
Keeps your iPhone mounted safely in place while driving
MagSafe Mounts for iPhone 12 Pro Max
If you have the iPhone 12 Pro Max, we offer our iPhone Pro Max Holder with Device Support for MagSafe Charger. This includes extra support to ensure that your heavier iPhone stays securely mounted, no matter the terrain.
---
Built-in device support to prevent your phone from sliding downwards
Holder can tilt-swivel to angle 15-degrees in any direction
Rotate to use iPhone in portrait or landscape mode
Easily dock and undock your iPhone with one hand