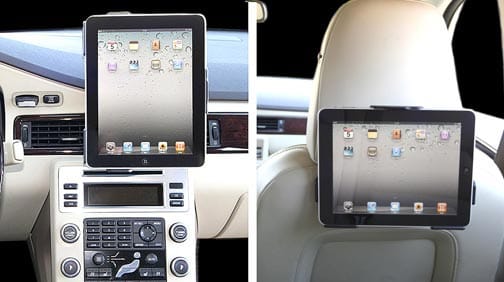 Consumer installable mounting solutions make Apple iPad easier to view and access while in the car, RV, at home or at the office.
CHICAGO—(BUSINESS WIRE)— ProClip USA, Inc. today announced a variety of iPad holders designed to securely mount Apple's new iPad in the car, home and office. All holders, designed and manufactured by Brodit AB in Sweden, have a neat and discreet design and are custom made for the iPad. The iPad slides easily in and out of the holder allowing you to quickly take the iPad with you.
In the Car Dashboard: Combined with a ProClip Vehicle Mount (see below), these new holders, attach to vehicle specific ProClip dashboard mounts. Once this two part solution (iPad Holder plus Vehicle Mount) is attached to the vehicle dashboard, it provides better viewing and easier access.
Headrest Mount: The iPad mount is mounted to the back of a front seat headrest. It comes with a tilt swivel so the iPad can be adjusted for optimal viewing. Installation is quick and will not damage the interior of the vehicle. The headrest mount fits most vehicles.
At Home and in the Office Desk Stand: Designed to be placed on any flat surface e.g. kitchen counter, office desk, table, TV stand and more. It angles slightly backwards so the iPad screen can be viewed from a sitting or standing position. Easily take the desk stand with you, from room to room, and connect your iPad to computers, TV etc.
Wall Mount: (Available in Black or White): Designed to attach to a wall, this holder can also attach to any flat surface. Optionally, a Tilt Swivel Mount can be attached to the back of the holder. The holder keeps your iPad in an upright position and can be mounted on the wall in either a vertical or horizontal position. Place your iPad on the wall for better viewing and reception. A discreet slim design wall mount for your home, office, RV etc.
Holder options may include, docking pass-through connector for cable attachment, 12V charging via USB, cigarette lighter adapter and hardwire charging.
"Creating mounting solutions that keep up with current mobile devices and changing trends, is what we do best," says Bjorn Spilling, president of ProClip USA. "We offer mounting solutions that are custom designed for virtually every car in the world, and all popular handheld devices."
Mounting solutions are also available for other Apple devices such iPhones and iPods. All products available at ProClip USA
ProClip Vehicle Mounts provide the mounting platform to attach any ProClip holder or adapter. The ProClip Vehicle Mount is the only vehicle specific, consumer installable mounting bracket in today's global market. The mount clips into the dashboard seams, providing a very sturdy and tight fit. Average installation time is 2 minutes. No dismantling of the dashboard is required and there is no damage to the vehicle's interior!
About ProClip USA, Inc.
ProClip USA, Inc. is the exclusive North American distributor of ProClip in-vehicle device mounting solutions and accessories. ProClip products are designed so that the consumer can mount their own electronic devices, such as mobile phones, MP3 players, GPS navigation systems, and satellite radios, to a variety of locations in virtually any vehicle. The company's mission is to supply customers with convenient, secure, easy-to-install mounting solutions that provide a safer and more enjoyable driving experience.