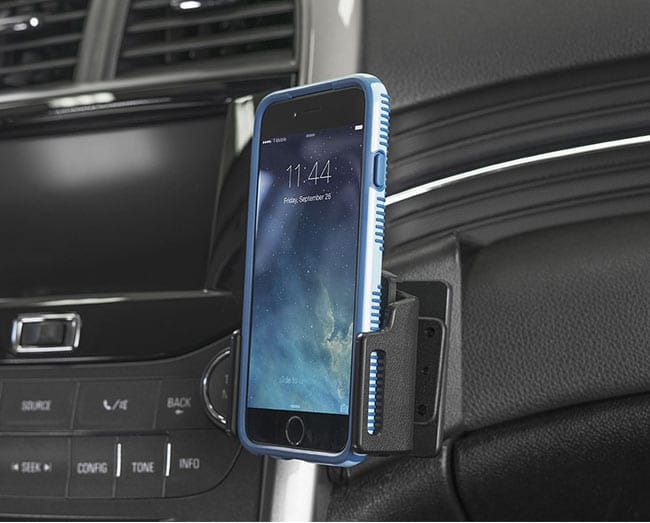 75% of smartphone users have a case to protect their cell phone. So when searching for a compatible phone mount, 3 out of 4 consumers will end up needing the adjustable option. An adjustable car phone holder is designed to hold cell phones with cases from multiple brands. A one-time easy adjustment will deliver the best fit for specific phone cases. By choosing the right adjustable holder, mobile users won't have to sacrifice device protection.
With thousands of mobile device cases on the market, choosing the adjustable phone holder is the best option. Adjustable car phone holders are compatible with the top case brands for both iPhone and Android including Otterbox, LifeProof and Speck, to name a few. Also, when switching phone cases or sharing the holder with a friend, you can simply readjust for a new fit.
When choosing an adjustable car phone holder, there are a few things you need to consider:
Make sure you know the correct size and shape of your phone case.
Determine whether your case fits into the small, medium or large category.
Cross-reference your data with ProClip's top adjustable holders for iPhone and Android.
Securing your phone in the best possible way, while also helping to eliminate clutter and improve visibility, is our top priority. That's why ProClip created a durable, two-part mounting solution. Once you've selected the best mount location in your vehicle, you will want to select the best phone holder to go with it. You have the option to choose a custom phone holder or an adjustable phone holder.
We make a new phone holder for just about every phone on the market, but if you prefer to use a case on your phone or plan to share the mount with family members, our adjustable holders will provide the best solution. Our adjustable holders are available with or without charging, and come with a tilt swivel that allows you to position your phone in landscape or portrait viewing.
When a new cell phone is released, custom (bare device) holders become available for purchase in just a few short weeks. For those who cannot wait, an adjustable holder provides the next best fit as the universal phone docking solution. ProClip's extensive line of adjustable holders are precision made to adjust and fit to any new cell phones that hit the market. As for consumers who cherish device security, adjustable holders are the ultimate solution for mounting case protected phones!
Top ProClip Adjustable Phone Holders
Are you interested in an adjustable phone holder? We've put together a list of our top adjustable phone holders for Android and Apple phones, along with the top phone case brands! Check out our infographic below to help you select the best mounting solution for you. Then you can browse through our selection of universal adjustable phone holders by clicking the link below.
ProClip USA Universal Adjustable Phone Holders