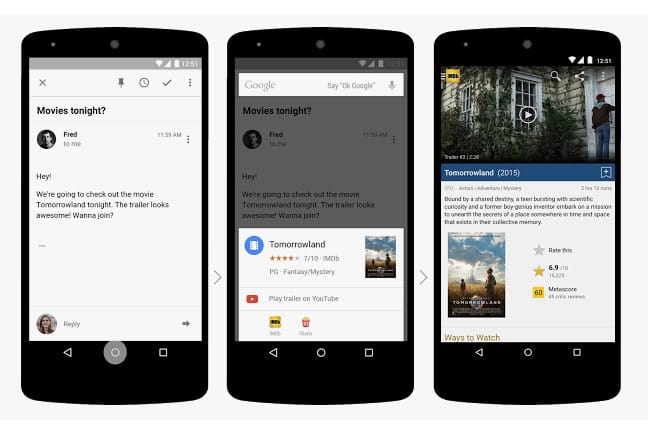 The long-awaited Android M 6.0 update – otherwise known as Marshmallow – is definitely an Android OS to get excited about! Specificaly, one special feature is standing out far among the rest – and it could be a real game changer. Google Now on Tap has the potential to change and enhance the way we interact with our Android devices, our friends and family and our community and local businesses from here on out.
What is Google Now on Tap and How Does it Work?
Google Now on Tap ties every application and screen into Google's intelligence. Just take and hold your device's Home button from anywhere in the system and a series of cards will appear. Say you are texting a friend about meeting at a restaurant later. Bring up Now on Tap, and it will give you cards involving everything from your calendar so you can record the date, access to reviews of the restaurant or options to open Google Maps for directions. Activate it when your roommate or spouse messages you to say that the washing machine is broken and you'll get a list of local repair shops.

Video Source: CNET
OK, Google Integration
You can also use voice control via the "OK, Google" command to ask questions about what is currently on your screen. For instance, if you are listening to music, you can ask your phone what album that song is on. If you are looking at vacation destinations, you can ask how much flights are. This voice activation allows you to do more when your hands are not free, which is perfect when you have your Android in your car phone mount.
Other Now on Tap Notes
So far, the system does appear to have some limitations. Because Now on Tap reads text on your screen, if you were watching a YouTube clip with a generic title, it might not be able to tell you who the actors in the clip are or when the movie was released. However, with a more descriptive title it will be able to better provide that information. In the future, Google does have plans to enhance the feature by moving beyond text.
By making it easier than ever to give you the information you desire, Now on Tap can fundamentally change how you use your Android device; it will save you time, typing and clicks.
Android M 6.0 or "Marshmallow" is rolling out on Nexux phones right now and should be available on other makes and models soon.