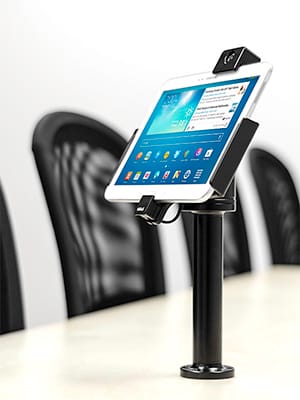 Mobile device holder and mounting solutions by ProClip USA are now available on the Samsung Solutions Exchange™, improving the customer experience by keeping electronic devices fully charged and within easy reach. The Samsung Solutions Exchange addresses the needs of business owners by creating holistic mobile solutions on a robust portfolio of enterprise-grade Samsung Mobile devices.
We have more than 10 years of experience providing customized enterprise mounting solutions for businesses. Our business solutions on the Samsung Solutions Exchange are machined and hand tooled from high grade ABS and Acetal plastics which ensures a durable high quality result. Their experienced engineers and state-of-the-art manufacturing process enables them to offer short and long production runs with a quick turnaround time.
ProClip business solutions designed for Samsung Mobile devices are ideal for use in many industries, from education, government and healthcare to retail, transportation and fleet management. Some example setups include:
Custom tablet mounts for counters and rolling carts in hospitals and clinics
Tablet holders for restaurants and retail stores to be used for Point of Sale
Mobile computing in-vehicle mounting solutions for public safety workers
You can read the full ProClip Samsung Solutions Exchange press release on our website.
To find out more about the benefits of the Samsung Solutions Exchange for businesses and partners, visit www.samsung.com/us/sse.
Samsung and Samsung Solutions Exchange are both trademarks of Samsung Electronics Co., Ltd. Other company names, product names and marks mentioned herein are the property of their respective owners and may be trademarks or registered trademarks.