Benefitting The American Family Children's Hospital
ProClip visited The American Family Children's Hospital (AFCH) based in Madison, Wisconsin on 10/18/18 to donate 10% of all Charity Sale proceeds from September 2018. ProClip was proud to donate time and resources to benefit AFHC raising $2,000 to help local children during a time of need.
"We were lucky enough to get $2,000 donated to us from ProClip USA," explained Lori Schultz, Development Program Coordinator, AFCH. "They were so kind. They are right here in town and they wanted to keep their money local. We can use that money for emergent issues that come up with our patients and/or their families."
"With the Greatest Need Fund we are able to purchase things such as distraction items so that children feel comfortable here. We offer gas cards to families if they are traveling from out of town. The donor dollars can also supply comforting items like a cap, hat or blanket."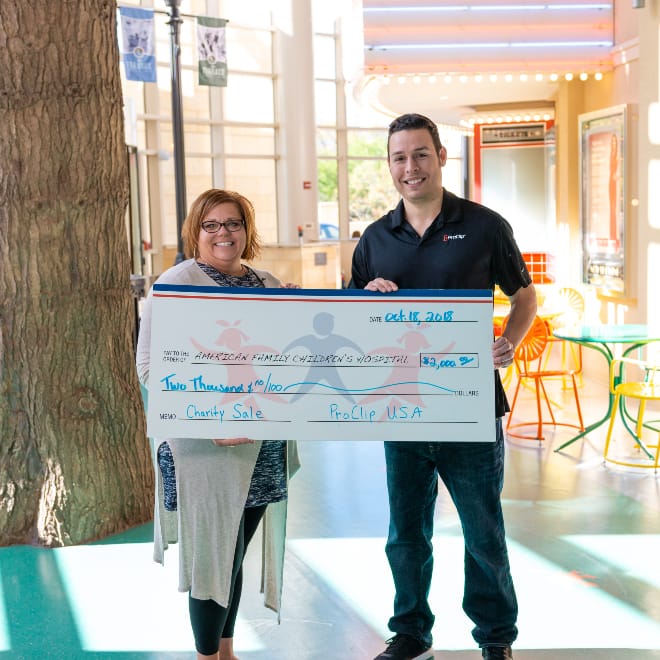 September 2018 Charity Sale Donation
Customers showed their support by ordering a discounted custom phone mount with all discounted proceeds donated to AFCH during a 48-hour period. The promo code CHARITY was used almost 200 times resulting in various donation totals from all over the country. A special shout out to Karen Hawkins from Hawkins Transportation in Texarkana, TX for the largest charity sale order and donation!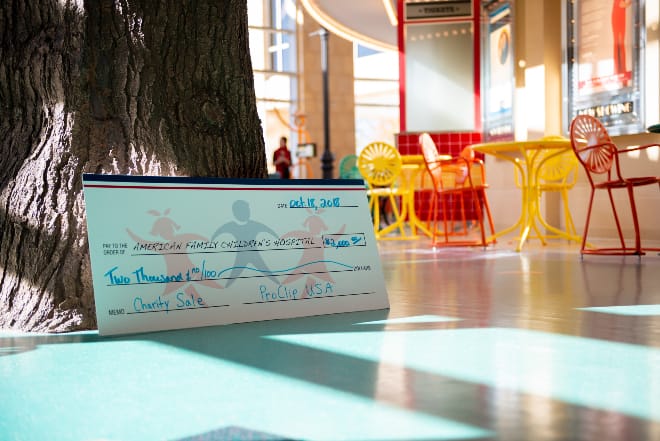 2018 Charitable Giving
Giving back is a ProClip mission to not only support national causes but pay special attention to helping local charities right in our backyard. In 2018, ProClip donated time and money to the following local charities: Agrace Hospice and Palliative Care, Village of McFarland Fire & Rescue, Village of McFarland K9 Unit, Dane County Humane Society and the Dane County Deputy Sheriff Association.
Next up for charitable giving is the 2nd Annual ProClip Car Show in June 2019 to benefit another local charity. We are proud to continue our charitable work with the American Family Children's Hospital and other local charities in 2018 and beyond. Follow AFCH to donate more.