Early on Wednesday, Amazon, in a single swoop, announced and made available the Fire TV. Another small black box to place into an entertainment center, Fire TV connects via HDMI to deliver the major streaming solutions, including, but not limited to: Prime Instant Video; Netflix; Hulu Plus; WatchESPN; SHOWTIME; video rentals through Amazon; Crackle; NBA Game Time; and, PLEX.
Until the release of Fire TV, Amazon Prime Instant Video was constrained to gaming consoles, mobile apps, and desktop streaming. With Fire TV, Amazon can now control and provide a tailored user experience for its own streaming service in a way previously prevented by lack of hardware. Controlling that user experience led to some creative approaches to the set-top box genre.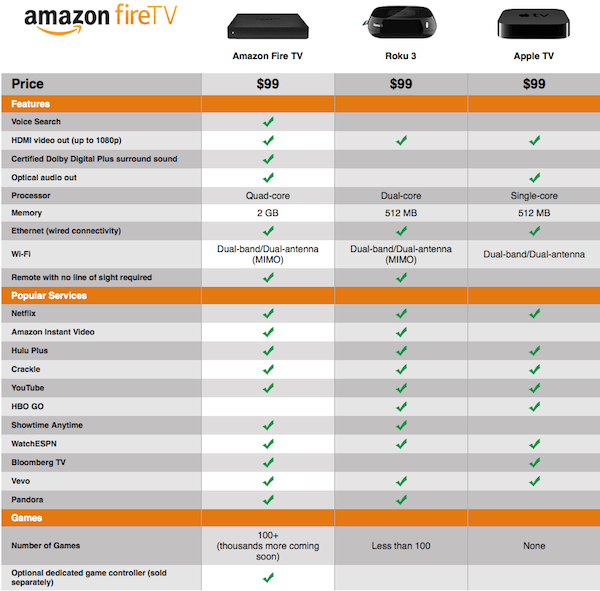 Rightfully so, Amazon is listing "Voice Search" atop the feature list. All competing devices lack voice command searches, which is a feature currently reserved for smart TVs, primarily in the Samsung line. As Amazon points out, preventing the need to use a D-pad to select letters on a virtual keyboard, saves valuable time and prevents annoyance.
A quad core processor with 2GB of memory, 8GB RAM, will guarantee gameplay is smooth and efficient, which brings up another feature. The Fire TV remote comes standard, like competitors; however, a dedicated OEM game controller is available for an additional purchase. Audiophiles will be quick to note, Fire TV is the only box capable of producing certified Dolby Digital Plus surround sound.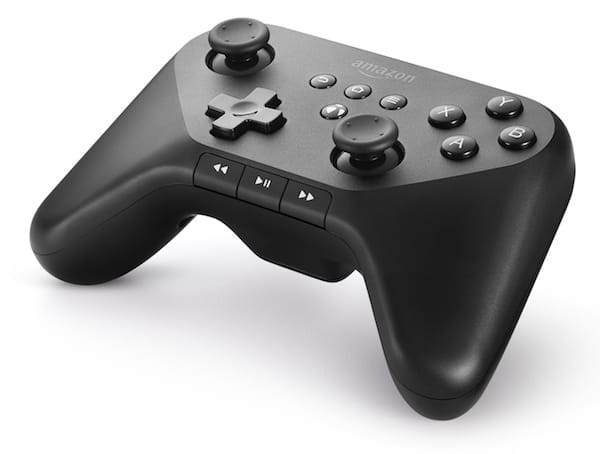 'ASAP' (Advanced Streaming and Prediction) is a software feature that learns and knows what you prefer to watch. It places content front and center that match your viewing trends. To increase streaming capability, Fire TV pre-caches the first few moments of each ASAP suggested stream. This pre work means, when a user clicks a video, it will instantly begin streaming. Naturally, the more users watch content through Fire TV, the more readily ASAP can predict viewing habits.
Additionally, Fire TV is capable of streaming music from popular providers Pandora, iHeartRadio, TuneIn, and vevo. Amazon mp3 customers can access their entire library through the unit as well, but this feature is still currently in development. Photos and videos uploaded to Amazon Cloud Drive will appear on Fire TV, once synced throughout the system, making it easy to share content with guests.
Amazon FreeTime is a tool for parents, encouraging a safe environment for children. Like Amazon's tablets, FreeTime lets parents control items like what movies, games, and apps are available for up to four different children profiles. Additionally, daily screen limits make sure watchers do not forget to go outside and play. Eventually, FreeTime Unlimited will be available as an IAP for $2.99, giving full access to content provided by Nickelodeon, Sesame Street, PBS Kids, and other kid-friendly programming.
Finally, Kindle Fire HDX can mirror content onto the set-top box with a simple in app command. Any Second Screen-enabled tablet can send video and audio to the TV, providing further control through the tablet.
Fire TV is available today through Amazon for $99.