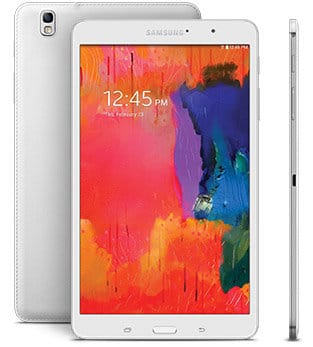 The Galaxy Tab Pro line of tablets offers impressive software features and brilliant screen quality, but this comes at a price tag. The 8.4-inch version retails at $399.
Features and Specs
Originally released in February, the Galaxy Tab Pro 8.4 features a (no surprise here) 8.4-inch screen at 1600 x 2560 pixels, which is an impressive 359ppi pixel density. It has a lightweight body, coming in at 331g. With 2 GB RAM, 16 or 32 GB storage and up to 64GB of additional microSD space, storage shouldn't be an issue for most. The cameras are pretty standard, at 8MP primary and 2MP secondary. It runs Android KitKat (4.4) on a Qualcomm Snapdragon 800 quad-core processor.
Reviews across the cyber-world are mostly positive, with price being the biggest drawback for most.
Tab Pro 8.4 Holders
We're offering six holder options for the Tab Pro 8.4.
Holder with tilt swivel
Charging holder with cigarette lighter adapter
Charging holder with USB cigarette lighter adapter
Charging holder with straight power cord for fixed install
Adjustable holder for tablets without a case
Adjustable holder for tablets used with a case
If you're looking to mount your tablet, check out all of these Galaxy Tab Pro 8.4 Holders on our website.