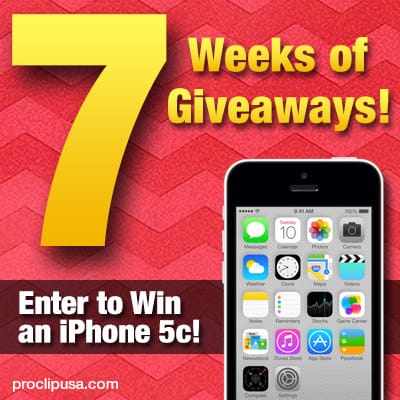 This is the fifth week of our 7 Weeks of Giveaways Promotion.
So far we've given away an HTC One, Nokia Lumia 920, BlackBerry Z10, iPhone 5 AND Nexus 5! We're still waiting on winners to confirm their prizes for the BlackBerry, iPhone and Nexus. Be sure to double check your email!
This Week's Prize…
This week we're giving away a new iPhone 5c in white. To enter, like us on Facebook and fill out the form on our iPhone 5c Giveaway page.
The entry will be open for the entire week and we will draw a winner Friday at noon central time and announce the name after getting in contact with the winner.
Help Us Reach 25,000 Facebook Likes
Make sure to share the entry form with your other Facebook friends! If we receive 25,000 Facebook likes by December 20th, we will end our giveaway extravaganza by giving away a new iPad Air AND a Samsung Galaxy Tab 3 10.1!
Terms and Conditions
As with any promotion, there are a few rules to point out. Due to the differences in laws between countries, you must be 18 or older and a resident of either Canada or the United States to enter. Please see the full Terms and Conditions for all giveaway rules and exclusions.
Don't Have a Facebook account? You can enter by filling out these forms instead: iPhone 5c Giveaway