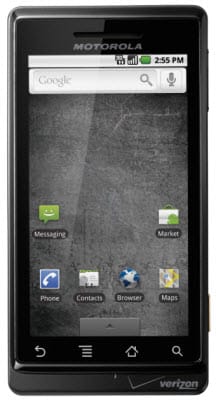 Verizon and Motorola have teamed up to make the new Motorola Droid smart phone! Released on Nov. 6th it is set to compete with the iPhone. No doubt this will be one of the fastest, biggest selling smart phones in the last two years which means ProClip USA will answer those sales with a custom holder.

The ProClip USA custom holder will allow Droid users to view the phone in both vertical and landscape modes.
In landscape mode users will be able to take full advantage of the free software included with the smart phone…Google Maps Navigation. Functions provided by the navigation software are:
Text to Speech Turn by Turn Directions
Voice recognition for address input.
satellite birds-eye view in navigation screen
Google Street view in turn by turn direction and much more
Customers are requesting the holders at a record pace, to reserve your spot on the list please email ProClip USA customer service.
To read more about the Verizon Motorola Droid please visit the following sites:
Verizon Motorola Droid
MobilityMinded – Unboxing of the Motorola Droid
Slashgear Review
Or Bing it for many more articles.