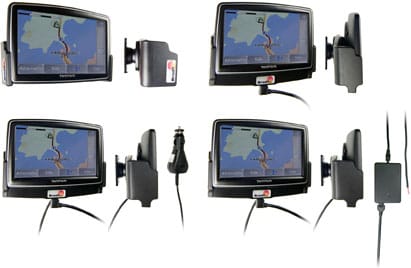 Consumer installable device holder makes TomTom XXL 540 S and 530 S easier to view and access while in the car.
CHICAGO–(BUSINESS WIRE)– ProClip USA, Inc. today announced a variety of device holders designed to securely mount the TomTom XXL to car, truck and SUV dashboards and consoles.
These holders, designed and manufactured by Brodit AB in Sweden, are custom made and attach to vehicle specific ProClip dashboard mounts. Once this two part solution (Device Holder plus Vehicle Mount) is attached to the dashboard, the solution provides better viewing and easier access. ProClip holders may also be attached to other manufacturers' vehicle mounts or any other flat surface.
"Securely and conveniently mounting handheld devices like the new TomTom XXL, without damaging a vehicle's interior, is what we do best," says Bjorn Spilling, president of ProClip USA. "We offer mounting solutions that are custom designed for virtually every car in the world, and all popular handheld devices."
TomTom XXL holders feature a variety of options including:
Tilt Swivel
Mini USB Pass-Through for Connector
Cigarette Lighter Charging Cable and Mini USB Pass-Through for TMC Connection
Fixed Installation Charging Cable and Mini USB Pass-Through for TMC Connection
Holders are also available for other TomTom GPS Navigation units. All products available at ProClip USA.
The ProClip Vehicle Mount provides the mounting platform to attach any of the ProClip holders. The ProClip Vehicle Mount is the only vehicle specific, consumer installable mounting bracket in today's global market. The mount clips into the dashboard seams, providing a very sturdy and tight fit. Average installation time is 2 minutes. No dismantling of the dashboard is required and there is no damage to the vehicle's interior!
About ProClip USA, Inc.
ProClip USA, Inc. is the exclusive North American distributor of ProClip in-vehicle device mounting solutions and accessories. ProClip products are designed so that the consumer can mount their own electronic devices, such as mobile phones, MP3 players, GPS navigation systems, and satellite radios, to a variety of locations in virtually any vehicle. The company's mission is to supply customers with convenient, secure, easy-to-install mounting solutions that provide a safer and more enjoyable driving experience.