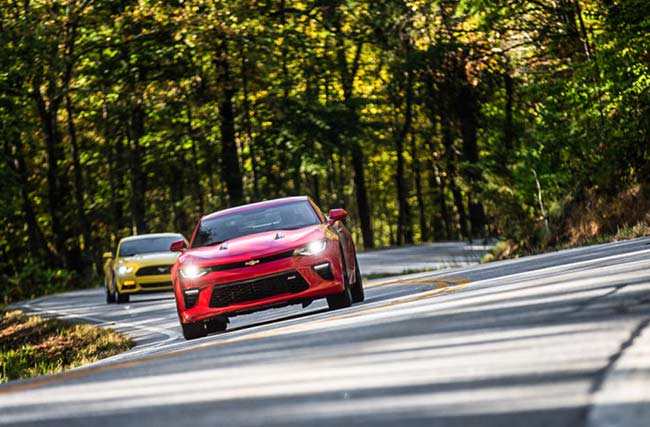 (Image via Road and Track)
The Chevy Camaro and Ford Mustang have held a rivalry for years, and the automotive world's heated race might have just took a left turn. For the first time in two years, the Camaro has outsold the Mustang. A victory provided—in part—by declining Mustang sales and Camaro countering a slump period with heightened production.
Into the Victory Lap
This year's Chevy Camaro pulled ahead of Ford's 87,258 Mustang sales, but it's still got work to do on the round-year track. Though Ford experienced a 9.3-percent drop in sales when compared to this season last year, it may still beat Camaro in the race. Camaro, in turn, has experienced an 11-percent drop in sales since this time in 2015.
Camaro's sales may be winning, but they may not be able to compete with Ford on the annual level. In the past, Mustangs have outsold Camaros for 24 years in a row. The trend, reversed with the Chevy's reintroduction back in 2010, may not yet be dead in the water.
A Push-Ahead Inventory
Chevrolet spokesman, Jim Cain, stated the company's intention to reduce 2016 model annual inventories before a 2017 launch. This greatly contributed to its marketplace impact, resulting in a significant boost in retail market share alongside inventory reductions in Chevy's dealer lots.
Of course, sales between both iconic muscle cars has been impacted by the fifth-gen Camaro—which experienced a strong redesign, too. It's ability to outsell the Mustang at every turn between 2010 and 2014 certainly helped. Meanwhile, the Mustang's sixth incarnation turned the tables while claiming gold.
A Future Mustang Win?
While 2016 still has a few months left, odds are in Ford's favor. In fact, experts predict the Ford Mustang's triumph in the above-mentioned "annual sales game," resulting in the brand's win, again, on the year-to-year stage. After August, alone, Ford hit 80,829 sales while hitting about 10,000 units per month. In all likelihood, it will eclipse the Camaro with over 100,000 sold units before December's end.
The Camaro might've won in September, but it'll feel the shadow come November. Something still, however, can be noted by the Camaro's great-reaching sales grab early in the year. Chevy knows what it's doing, and it's doing well. Whether or not the Camaro's success is reflective of Chevy or not, still, is any person's guess. For now, however, muscle car enthusiasts can take home the Camaro's slick design knowing it's far more than a regular challenger.
Win or Lose – We Have Dashboard Mounts for Both!
Whether you are a Ford fanatic, or a die-hard Chevy fan, we have the perfect dashboard mount for both the Chevy Camaro and the Ford Mustang. Our phone mounts are the best on the market. They are made from High Grade ABS plastic and are designed to fit the specific dimensions of the dashboard. We promise, your phone mount will look like Ford and Chevy made it for the cars themselves. Check out our selection by clicking on the links below.