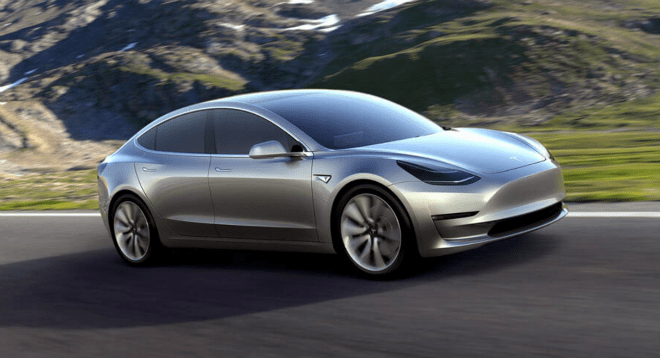 The Tesla Model 3 leaves a lot to the imagination, which says a lot as coined as this year's 'alien dreadnought' vehicle. Elon Musk, Tesla CEO, has referred to its production line multiple times in recent interviews, emphasizing the Model 3's first version being a "version 0.5." This doesn't mean we can't get an inside look, however.
Production Speed and Clean-Cut Interior of The Tesla Model 3
Musk confirmed Tesla's focus on production speed this year. Homing in on a 20-fold production speed increase, Musk has apparently gunned for a revolutionary approach to interior styling. From what we can see, the Tesla Model 3 will lack an instrument cluster. This year's model will utilize a heads-up display system, instead, to reveal information in a minimalistic way.
Meanwhile, the Tesla's HVAC system offers a unique approach to ventilation while keeping things traditional. You can check out a ride video, here. Yeah, there will be touch-screen displays. Tesla's ideal vehicle leaves virtually nothing up for grabs.
New Proportions and a Full Roof for The Tesla Model 3
New to the Model 3 is the line's fuller roofline, which is reportedly similar to the Panamera's. Thus, the Tesla Model 3 is expected to have a much heavier side view. The Model 3 walks the line skillfully, however, and its clean surface and lack of ornamentation is striking. There is a prioritization of forward movement, here, which maintains the Tesla's iconic profile without being overly aggressive.
Will We See a
Jetson's-Esque

Caricature with The Tesla Model 3?

While the Model 3 is certainly futuristic in design, we shouldn't jump to conclusions just yet. Its expansive glass roof is matched with the above-mentioned high roofline. Its ridged tumblehome also lends itself to a modern vehicle design. There are a lot of subtle styling cues at play, and we should consider the Tesla Model 3's unique priorities. It's optimistic and exciting. It's simple, but polarizing.

Really, the Model 3 contains the purity previous models strove for. Its bright-side window moldings don't only add perceived value, but recognizable Tesla design elements. Overall, the midsize sedan market is about to meet a powerhouse ride. The Tesla Model 3's A-line between the wheels doesn't over-gesture the vehicle's design. At the same time, its lack of noise is tempting to any driver.

We still need to wait for long-term Model 3 reviews, but its sleek look and lack of visual clutter is going to take the market by storm. For now, we can keep giving Tesla the attention it deserves.