Phone Mounts for the All-New Silverado
The 2019 model-year marked the introduction of the fourth generation of the popular Chevrolet Silverado. The all-new Silverado featured a significant design shakeup, six different engine options and a variety of trim options to fit the needs of any truck owner. Each of the trim levels comes standard with an infotainment system including Apple CarPlay and Android Auto. Staying connected has never been easier with the technology in the all-new Silverado. But where are you putting your phone when you're on the go? A sturdy phone mount will provide easy access to your phone allowing you drive safely without the worry of distracted driving.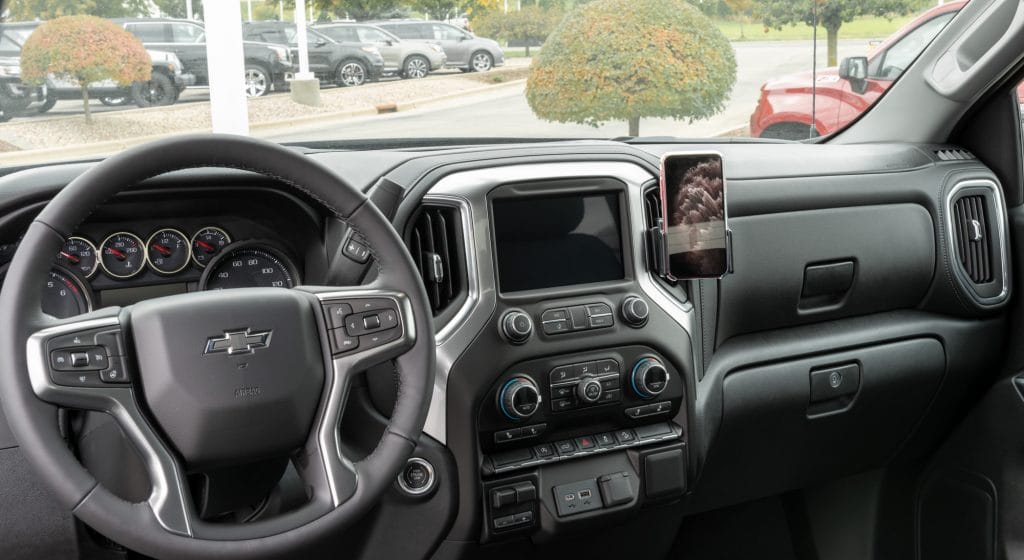 Custom Dashboard Mounts for Chevrolet Silverado
ProClip USA offers a variety of mounting options for your Chevrolet Silverado. Our Silverado phone mounts are custom-made to fit your truck. The Angled Dash Mount simply snaps into place using the existing seems of the dashboard and can be installed in minutes. Made from high quality ABS plastic, ProClip mounts look like they belong on the truck. The dashboard mounts still allow for air to flow freely throughout the cabin.
Extra-Strength Center Dash Mount
Attaching just above the center infotainment screen, the Extra-Strength Center Dash Mount allow you to keep your device conveniently within view for GPS navigation and hands-free calling. The extra-strength mount allows for larger devices like tablets to be securely mounted while you're on the job.
Custom Console Mounts for Chevrolet Silverado
Some trim levels of the all-new Silverado allow for the placement of a console mount. The ProClip Left-Hand Console Mount and Right-Hand Console Mount allow you to keep your device safely docked and out of the way, while still keeping it within reach when you need it. If your Silverado has a center seat, these mounts are not for you.
ProClip Mounts for Chevy Trucks
If you drive a Chevy Colorado, an older Silverado or any other truck, we've got a ProClip mount for you! Enter the exact make, model and year of your truck in our vehicle finder and see what mounts are available.
We have custom phone mounts available for other trucks, too! If you want to get your F-150, Ram 1500, Tundra or other truck equipped with a sturdy phone mount from ProClip, head to our vehicle finder and find the best mount for you.
Hands-Free Cellphone Mounts from ProClip
When you're on the go, it's important to keep your cellphone safely docked for hands-free use. If you use your phone for maps, music or hands-free calling, a ProClip provides a sturdy and safe mounting platform. ProClip device holders are designed to fit your specific device with or without a case. Simply enter your phone model on our website and enjoy safe, hands-free driving. If you have any questions, give us a call at 1-800-296-3212 or email us at customerservice@proclipusa.com.