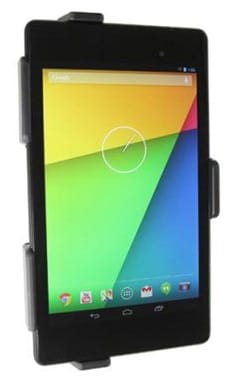 We recently took a look at the Samsung Galaxy Tab 3 family of tablets. This line is a popular choice for any tablet user, but especially for Android users. The other top Android tablets are part of Google's Nexus line. The Nexus 10 was released last year and is likely due for an update soon. The original Nexus 7 tablet has just received an update which makes it a top choice for smaller tablets.
New Nexus 7 (2013) Tablet
The new tablet includes a sharp HD screen and fast performance which make it great for gaming. Plus, right now it comes at a great price, starting at $229.
The 7-inch screen is a 1920×1200 display. The Qualcomm Snapdragon S4 Pro chip and Adreno 320 graphics processor make for a great experience. The tablet features a 5 MP camera and 1.2 MP front-facing camera.
Nexus 7 (2013) Holder
Our new Nexus 7 (2013) holder is custom fit and offers a discreet design that allows you to easily slide the Nexus 7 in and out of the holder. The holder swivels a full 360 degrees and will tilt 20 degrees in any direction.
This holder can be used on a dashboard mount, headrest mount, table stand or other mounting base. We do recommend you review where the tablet would fit in your vehicle based on the mounting base locations to ensure it will fit. Some locations will block buttons on your dash.

Do you have the Nexus 7 (2013) tablet? Tell us what you think of it on our Facebook page.