Congratulations to the winners of the sweepstakes held this week! Each winner will receive:
One Otterbox Defender Series case for the iPhone 4/4S
One ProClip USA Charging Holder (because what good is your phone if not charged and ready?)
So, you ask, who won these great prizes?
Drumroll, Please… and the Winners Are
The lucky two winners this time around are:
What the Giveaway Was All About
There's nothing worse than getting out of the car and forgetting your phone was sitting on your lap. It drops onto the concrete, shattering the screen and putting some gouges in that shiny new surface. Or how about when you swerve around a corner and your phone goes flying? Of course you're in a hurry and you have no idea where it went. Maybe it sailed under the seat, getting a nice big scratch in the process. You put in the time to choose the perfect phone, so you better find a way to protect it!
Safety is one of our top concerns at ProClip USA. We want to keep you safe in your vehicle, but the safety of your phone is also high on our list. So we decided to give away these great safety products to two lucky winners as part of an iPhone 4S sweepstakes.
Didn't Win? You Have Another Chance!
Don't fret! Since we love all of you, and like we said, we love you even better when you're safe, we're giving you another chance to win. This time we are launching a giveaway on Twitter. The next two winners will receive: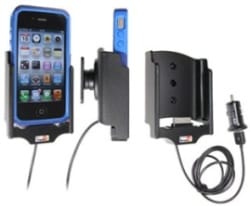 One Otterbox Commuter Series case for the iPhone 4/4S
One ProClip USA Charging Holder (just like before, it's specially designed to fit with the Otterbox case!)
How to Enter
Go to Twitter.
Copy and paste the following Tweet. Fill in the blank and make sure to use the hashtag!
"A car mount for my phone would help me ___. #ProClipUSAsafety"
That's it!
Don't have a Twitter account? Fill out the form here to participate.
*The deadline to enter this promotion has now passed. See the names of the winners.
Legal Stuff
Two (2) winners will be randomly chosen. Entries must be an original tweet. Re-tweeting (RT) posts by others does not count as entering. Only one entry per Twitter Handle will be counted. Contest entries will open on 5/25/2012 and all entries must be received by 6/1/2012, 11:59PM CST. Winners will be notified via Twitter on 6/4/2012. Winners will be announced on the ProClip USA blog once prizes have been accepted.
Terms and conditions apply.