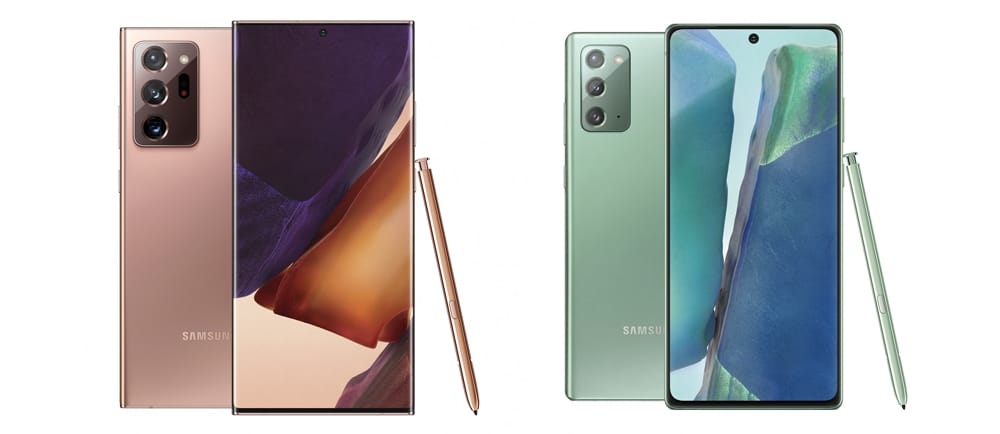 After weeks of rumors and build up, Samsung took to the stage for a virtual Unpacked event and officially released the newest iteration of the powerhouse Note lineup, plus lots of other exciting products. The Galaxy Note 20 and Note 20 Ultra will be available for preorder on August 6, 2020 with expected delivery of August 21. Here's a rundown of what you need to know about the latest flagship phone from Samsung.
Samsung's Most Powerful Phone
The Samsung Galaxy Note series is known for being loaded with the most powerful specs on the market, and this year's 6.7-inch Galaxy Note 20 and 6.9-inch Note 20 Ultra fit the bill. Each comes with a Snapdragon 865 Plus processor capable of 5G. The Note 20 comes with 128GB of storage, 8GB of RAM and a 4,300 mAh battery, while the Ultra is offered with either 128 or 512GB of storage, 12GB of RAM and a 4,500 mAH battery. Additionally, the Note 20 Ultra features dynamic refresh rates up to 120Hz, to make an incredibly smooth and responsive display.
An Updated S Pen Stylus
Perhaps the feature that the Note series is best known for is the S Pen stylus. The all-new S Pen features new gestures for navigating through the phone, is more responsive, and has better handwriting recognition than ever. The Samsung Notes app now also has live auto-syncing, so your hand-written notes can be accessed quickly and easily on your other devices.
Upgraded Cameras Capable of 8K Video
Samsung has taken leaps forward in the past several years with the capabilities of the cameras in their phones. The Note 20 and the Note 20 Ultra offer powerful camera capabilities for both still photography and video. Each has three available rear cameras, a wide, ultra-wide and a telephoto. Most notably is the large camera bump on the Note 20 Ultra. This gives the Ultra the ability to house a 5x optical zoom and a 50x "Super Zoom" while the Note 20 offers a 3x hybrid optical zoom and a 30x enhanced zoom. Each supports 8K video and a pro video mode for flexing your creative muscles.
Order Your Galaxy Note 20
You can preorder your Samsung Galaxy Note 20 or Note 20 Ultra on August 6, 2020. The Note 20 starts at $999 and the Note 20 Ultra starts at $1299. Each are expected to arrive on August 21, 2020.
Dock Your Galaxy Note 20 with ProClip
When you're on the go, you'll want to keep your Note 20 docked safely and securely. ProClip offers mounts that are made specifically for the make, model and year of your vehicle, and device holders that are designed specifically for the Galaxy Note 20 and Note 20 Ultra. Send us an email at customerservice@proclipusa.com to be notified as soon as holders are available.