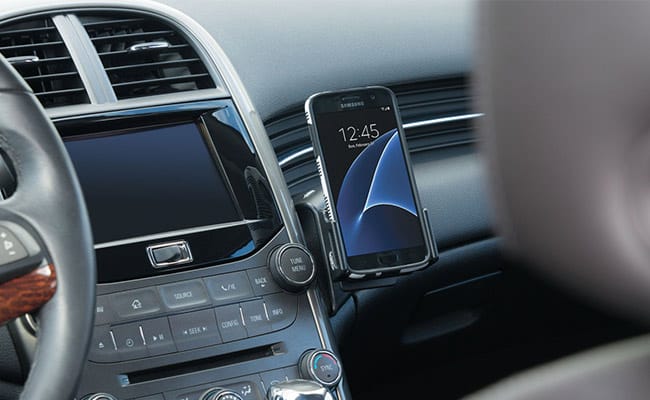 The Samsung Galaxy S7 definitely made a statement after it was released earlier this year. It did not disappoint Samsung fans, although there was some concern that it would not be able to live up to the well-received Galaxy S6.
The S7 comes with a clean design, wireless charging and a long battery life. To learn more about the specs of the Samsung Galaxy S7, check our our review.
Top Cases and Adjustable Car Phone Holders
We've put together a great selection of universal adjustable phone holders for the Samsung Galaxy S7. Our holders are made of ABS plastic and adjust to a large variety of phone cases to provide the best fit. Our universal phone holders are available in charging and non-charging options and come with tilt-swivel to allow you to view your phone in both portrait or landscape views.
Our adjustable phone holders can be installed in under five minutes and are designed to match the interior of your vehicle. We offer a couple different mounting options, depending on the size of your phone case. We've put together a list of the most popular phone cases for the Galaxy S7 and the best ProClip holders to go with them .
The Speck CandyShell Grip case is a great option if you want a phone case you can trust to protect your phone. This case comes in four different color options and was designed to have a slim fit. It has multiple layers to keep your phone safe and comes with no-slip grip.
If you are looking for a charging phone holder, the Speck CandyShell Grip case for the Galaxy S7 works best with our medium adjustable charging holder T1 (product #521620)
---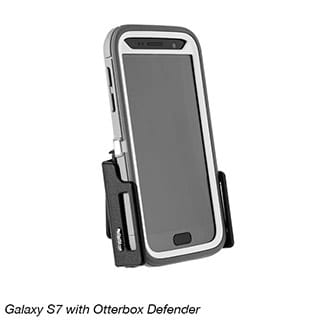 Do you want a solid guarantee that your phone won't be damaged if it is dropped? You can't go wrong with the Otterbox Defender case. This case comes with quad-layers to protect against drops and scratches. It comes in several color options, but if you really want to personalize it, you can create your own custom case on Otterbox.com.
Our Large Universal Adjustable Holder (product #246830) fits perfectly with the Otterbox Defender case for the Galaxy S7 and is available in a non-charging option.
---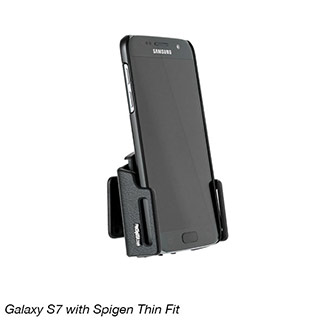 The Spigen Thin Fit phone case is meant for people who want to keep a slim profile on their S7. This case is lightweight so it won't add bulk to your phone. The Spigen Thin Fit case works best with our Adjustable Holder for Small to Medium Cases (product #246824).
---
Maybe you don't like to use a phone on your case. That's okay! We also offer custom phone holders for the Samsung Galaxy S7 in charging and non-charging phone mount options.
If you're new to ProClip mobile mounting solutions, you will want to make sure to select a dashboard mount to go with your phone holder. We offer a two-part mounting solution that provides our customers with the sturdiest mounting solution on the market. Our dashboard mounts are designed to fit the specific dimensions of your vehicle and can easily be installed with out any damage to your dash!