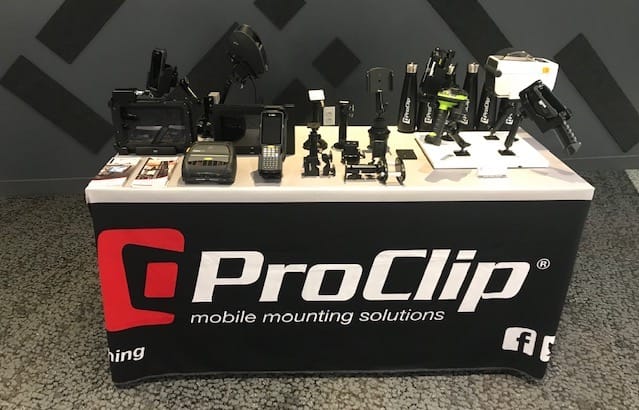 ProClip USA Inc., a Zebra Technologies Independent Hardware Vendor (IHV) and industry leading distributor of device-specific vehicle cradles and mounts will be attending the 2020 NALA Sales Kick-off and Channel Partner Summit in Reno, Nevada, January 27-30.
A long-time trusted resource for custom enterprise-grade device mounts, ProClip will meet with hundreds of Zebra account team members from across North America and Latin America, as well as dozens of top Zebra reseller partners from NALA.
Top Mounts for Zebra
A proud sponsor and exhibitor at Expand 2020, ProClip will feature several custom cradles and mounts for leading devices. Top forklift and vehicle-specific mounts include:
TC52/57 Series
TC72/77 Series
TC8000/8300 Series
ET51/56 Tablet Series
Mobile printer mounts for healthcare and warehouse applications:
ZQ6X Series
QLN4X and 5X Series
Newly-released custom mounts for leading Zebra devices:
MC3300R (RFID) Powered Vehicle Cradle with Vibration Dampening for MC3300 RFID
Zebra Independent Hardware Vendor (IHV)
ProClip USA Inc., has deployed thousands of custom device mount solutions for material handling and warehouse facilities using Zebra-specific mounts. Leading device cradles include several custom cradles and mounts for Zebra's MC9300 and MC3300 mobile computers and TC20 touch computer.
ProClip can facilitate bulk orders with short lead time to deliver the parts needed to make your business successful and more efficient. Contact a ProClip sales representative at 1-800-296-3212 or enterprisesales@proclipusa.com or submit your detailed product request. Read the full Zebra press release to learn more.