Samsung's flagship phablet, the Galaxy Note, has proven to be popular among bigger-is-better phone consumers, especially when looking at prior sales results for the original Note, Note II and Note 3 models. However, reports are coming in that the Note 4 may fail to compare with the over-achieving sales its predecessors inspired. Selling only 4.5 million units in the first month, the Galaxy Note 4 lags by 500K, when compared to the Note 3 release. Could it be that Apple's iPhone 6 Plus, which reached record sales, could be eating away at the success of the Note 4? We'll take a look at the Note 4's specs and to see how it compares to both the Note 3 and the iPhone 6 Plus.
Design and Specs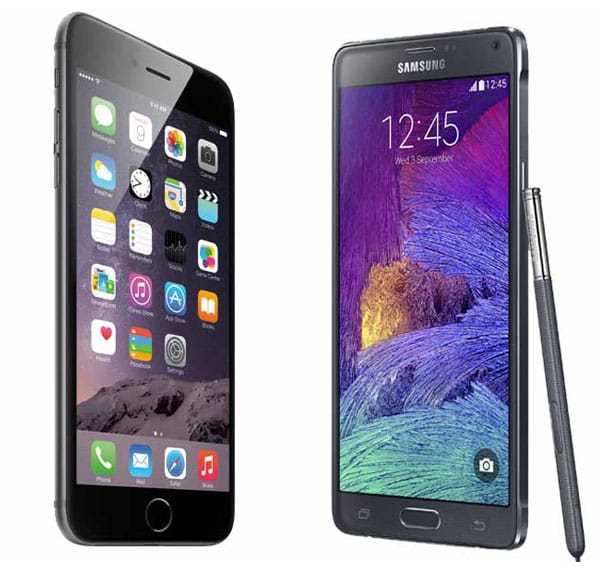 The Note 4 comes in slightly larger than both the Note 3 and the 6 Plus at 153.5 x 78.6 x 8.5 inches, which also makes it slightly heavier. However, most people would argue that the Note 4's "premium" metal frame makes up for the weight difference compared to the Note 3, but when compared to the aluminum build of the iPhone 6 Plus, there's no comparison to the Note 4's faux leather back. The Note 4 is available in four colors, adding an additional gold option compared to the Note 3, and keeping on trend with the styling of the iPhone 6 Plus – which in comparison leaves out the favorite black and white options.
Although screen size remains the same in both Note models, the Note 4 is slightly larger than the 6 Plus at 5.7 inches and kicks it up a notch with a resolution of 1440 x 2560 (515 ppi), higher than the Note 3 (388 ppi) and the 6 Plus (401 ppi). Both Notes also come with a stylus, preferred by some, but not a deal breaker for the 6 Plus.
Lately, Apple has been receiving accolades from it's Touch ID fingerprint sensor. While this is a feature lacking in the old Note 3 altogether, Samsung ups its game in the Note 4 with a swipe fingerprint sensor, consistent with the Galaxy S5, but without the extra security iPhone adds with Touch. However, both the Note 4 and the 6 Plus offer NFC chips – something new to Apple with it's newly introduced Apple Pay, but not Samsung, who has offered Google Wallet for sometime now.
Not much has changed in the way of battery life in both Notes, who boast 3,220mAh batteries, a contrast with Apple's 2,915 mzAh battery. However, Gizmag says Samsung's Ultra Power Saving Mode may be the most innovation software feature Samsung has created, which can stretch a battery with only 10 percent of life left into 24 hours by only utilizing bare essential apps, similar to those of a feature phone. The Note 4 is also the faster charging of the two phablet newbies, charging from 0-50% in only a half hour.
Let's talk cameras, shall we? Up until now, Apple has been known for its superior picture quality. Samsung upped its game from 13 MPs to 16 MPs in the Note 4. It also increased its front-facing camera from 2 MPs in the Note 3 to 3.7 MPs in the Note 4. Apple's 6 Plus features an 8 MP camera and a 1.2 MP front-facing camera. Both Apple and Samsung include Optical Image Stabilization in their newest models.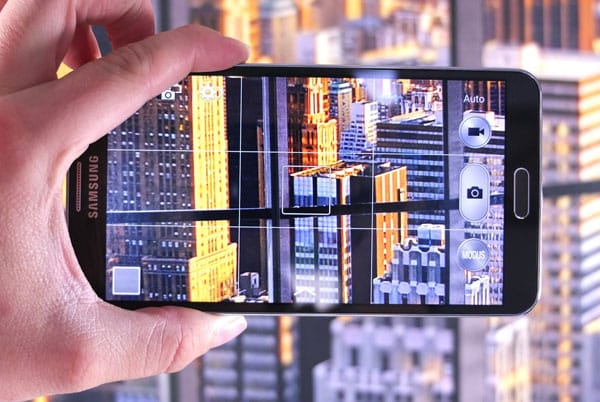 Apple incorporated a heart rate sensor in the release of their Apple Watch, however not in the 6 Plus – something Samsung added to the Note 4 that wasn't previously available in the Note 3. Something we've seen to be of value in a variety of mobile devices lately is side-by-side, split-screen multitasking capabilities. Samsung has incorporated this previously in its Note devices, so it's no surprise that the Note 4 has it as well. Many are surprised this is a feature Apple did not decide to include in the 6 Plus.
Under the hood, Apple's iPhone 6 line is running on its newest iOS 8 software, while the Note 4 still uses Android Kit Kat. Android's Lollipop, which should show up this November in the Nexus phones, hasn't been released yet, but it would have been interesting to see how it compares to iOS 8. Memory-wise, the Note 4 packs 3GB of RAM while the 6 Plus offers only 1 GB.
Final Thoughts
It's clear that the Galaxy Note 4 has a lot to offer in comparison to not only its predecessors, but also to its competition in the mobile marketplace. Although the Note 4 certainly hasn't received the hype that comes with the release of a new iPhone model, one can be certain that the Note 4 will not disappoint those who purchase it.
Car Phone Mounts
Looking to "Stop Fumbling Around"? Mount either of these bad boys in your vehicle with a ProClip USA car phone mount for iPhone 6 Plus or a mount for the Galaxy Note 4.