During the month of October we moved our Mount Something t-shirt giveaway to Twitter. We asked our Twitter followers to tweet a phrase and fill in the blank in order to receive one of our awesome Mount Something t-shirts in the mail. The phrase was: "I'm so excited to #mount my #iphone5 I could ___. #proclipusa"
We then took the list of entrants and randomly chose one lucky person to win a $50 credit towards his or her next ProClip purchase! Now that October has come to a close, we can announce the winner of this contest!
Drumroll Please… And the Winner Is…
The contest winner is @DavidIWolf! David was eager to win the contest and entered many times. These are a few of his tweets: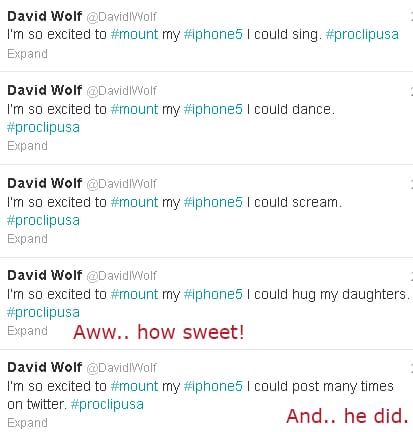 Some More Tweets
David wasn't the only one with great tweets. Here are a few more from our other followers: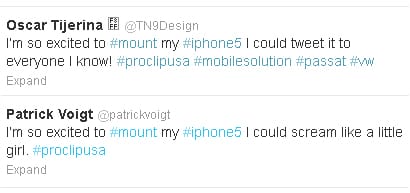 And one of our favorites…

Now that's impressive!
Thanks for Playing!
Thank you everyone for entering! We enjoyed reading your tweets. Enjoy your Mount Something t-shirts and show them off to all of your friends! Be sure to watch our Facebook and Twitter so you don't miss out on our next cool contest!