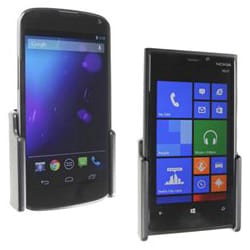 Do you love the wireless charging of your latest phone?
Wondering if you can get a ProClip holder that will integrate with this awesome capability?
That's what we've been hearing from a lot of people, especially with the popularity of wireless charging phones like the Nexus 4, Nokia Lumia 920, Nokia Lumia 820 and HTC Droid DNA.
Why Don't ProClip Holders Already Have Qi Wireless Charging?
The idea of integrating Qi wireless charging into our holders is very exciting for us. Of course the best things in life never come easy, this being one of them. Here's what's been holding us back:
Frequency Interruptions
Qi wireless frequencies can interrupt push-button ignitions and tire pressure sensors.
Different Coil Placements
Coil placement for wireless charging varies between devices, making it more difficult for us to find a universal way to implement this across different holders.
Possible Lack of Necessary Power Levels
We've been looking into whether wireless charging will provide enough power to trickle charge phones while navigation is being used, since GPS tends to suck a lot out of a phone's battery.
When Will We See ProClip Holders with Qi Wireless Charging?
Despite these reasons, we know how many people are holding out for this kind of functionality in our holders. Plus, we want to do it anyway because we think it'd be pretty cool and we tend to like cool tech gadgets. So, we've been working feverishly to see what we can do and we're getting closer!
We're close to finding the solution and we should have more information in the coming weeks on how we can implement Qi wireless charging into our ProClip device holders.
Stay Tuned for More Updates
Make sure you follow us on Facebook and Twitter for the most up-to-date information on new product releases, special discounts and promotions.