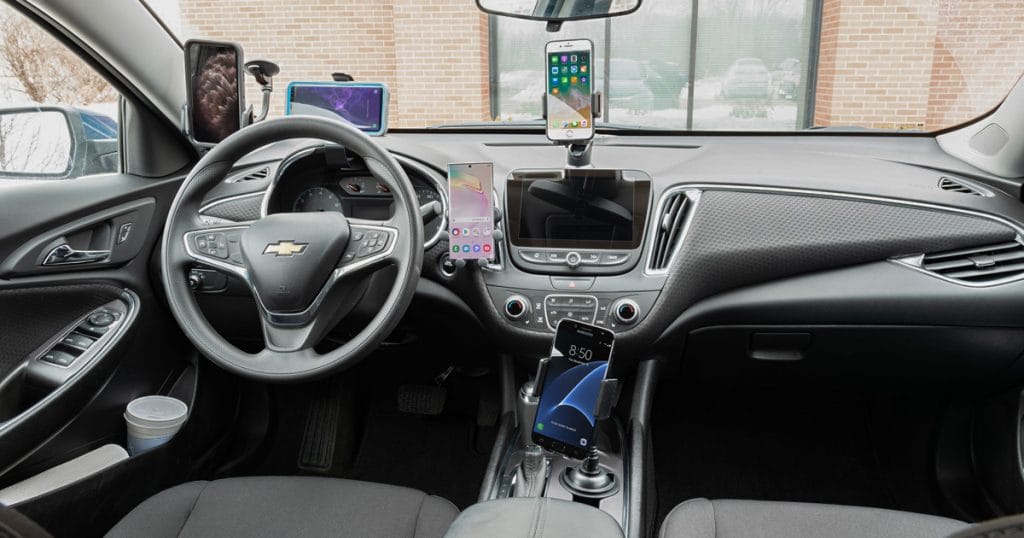 Are You Tired of Your Low-Quality Phone Mount?
As phones have become more and more ingrained in our daily lives, another important truth has been realized as well. Distracted driving is dangerous and cell phones are one of the biggest causes of distracted driving-related accidents. At the start of 2021, 24 states (and counting) plus the District of Columbia have passed some form of a law prohibiting drivers from operating their vehicle with their phone in hand.
If you live in a state with hands-free laws or are looking for a safe spot to place your phone for GPS navigation, hands-free calling or even just a sturdy place to prevent it from rattling around while it is plugged into Apple CarPlay, you've probably looked for a phone mount for your car.
You may have found the first cheap phone mount available on the internet that was advertised to fit every phone and every car! After it was delivered in the mail, you likely stuck it on your windshield with a suction cup or shoved it into a slot in your air vents to quickly realize why this phone mount was so cheap in the first place as soon as you hit a pothole. Fumbling for your phone on the floor after it fell out of your cheap phone mount is just as distracting as texting and driving.
Cupholders are for Cups, Not Your Phone
After giving up on that mount, you probably just went back to your phone rattling around in the cupholder or attached it to a cup phone holder mount. This is great until you've run out of space to put your coffee on your morning commute or road trip. If you're tired of low-quality phone mounts that are somehow designed to fit all cars, even though the interior of every car is quite different, you've come to the right place.
High-Quality Phone Mounts from ProClip
ProClip USA specializes in a phone mount that consists of two custom-made parts. The vehicle mounting base is designed specifically for the exact make, model and year of your car. It easily snaps into the seams of your dashboard panels for a solid and secure fit, with no professional installation required. The device holder is made specifically for your phone, whether the latest iPhone or your trusty Samsung Galaxy S6. Choose from a number of different configurations, including custom fit for the bare device, adjustable for devices with a case, and with or without charging. Together, the two parts make a complete ProClip mounting solution. Ditch the low-quality phone mount and build your ProClip mount today.