It's that time again! Wednesday product announcements! Today we're featuring a mount for the 2012 Honda Pilot.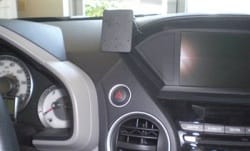 Center Phone Mount Style
Did you know the center mount is our most popular style? About 90% of our customers prefer this mount position. The Honda Pilot mount features easy, clip-on installation with a secure and sturdy fit. This means you can lock your phone in place and not have to worry about (a) where you put it, and (b) having it fly around in the car when you're cruising down the road.
Ensure the Best Possible Signal Strength
Another great benefit is how the mount is positioned to hold the device holder that you attach. It makes sure your phone is held upright and at a higher point in your car (compared to being buried with your gum wrappers and who knows what else in the cup holder) so that you receive the best possible phone and GPS signals. We can't change the kind of service you get from your provider (unfortunately, this one is up to you), but there's nothing more annoying than going through those "dead zones" and trying to move your phone around the car until it picks up a halfway decent signal.
Keep That Honda Pilot Looking New!
We know taking care of your vehicle is important to you, so don't worry about your ProClip USA mount damaging it in any way. Our mounts feature an installation that requires no holes or dismantling of your dashboard and no special tools or expensive installation fees to put it in place. Check out this installation video for a quick tutorial on how to install your mount.
Mount Shopping Tips
Do you already have your phone holder? If not, don't forget to add that to your cart before checkout! Remember, all of our Vehicle Mounts and Device Holders are a two-part solution, perfectly customized to fit your phone and your vehicle. Not sure what you need or how to find it? Our Car Mount Shopping 101 guide can help you answer some of those burning shopping questions.
More Mounts!
If you don't have a 2012 Honda Pilot, don't worry. Find your vehicle mount on our website. We've been testing and launching vehicle mounts for many 2012-2013 vehicle models. Sign up to follow our blog to be one of the first to receive ProClip USA updates and more product announcements like this one. Are you a social fanatic? Connect with us on Twitter and Facebook to receive more ProClip USA news and announcements.