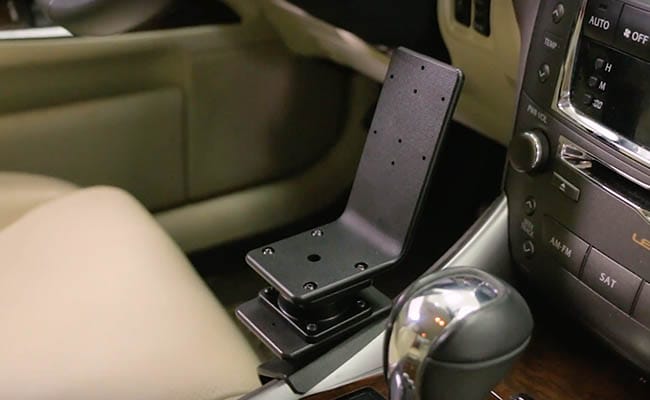 Do you use a ProClip phone mount in your vehicle? Using a phone mount is a great way to get the most out of your device while remaining safe behind the wheel. We know that in order for a driver to find a phone mount useful, it needs to be in the perfect location. In order to make that happen, we've designed angled extension plates that are compatible with our center console mounts.
Angled Extension Plates
If you currently own or are looking to purchase a ProClip console phone mount for your vehicle, we offer two extension plate options. Each extension plate listed below is designed to work with any of our center console mounts to give the driver the option of keeping their device upright. Our extension plates are made from the same high-quality plastic as our phone mounts. To use our angled extension plates, all you need to do is attach it to your ProClip console mount and then attach your phone holder to the angled extension plate.
To customize your mounting solution, even more, you can also use an additional tilt swivel with this product. All you need to do is attach the tilt swivel to the bottom of the plate. This will allow you to move the device for better viewing.
Standard Angled Extension Plate (#215413)
Our standard angled extension plate is a great option to keep your device upright if you use one of our center console mounts. It is also a great option for avoiding any possible interference with dashboard controls.
Thick Angled Extension Plate (#215228)
Our thick angled extension plate is best for drivers who like to go off-roading and take drives over rough terrain. This thicker plate will cause less vibration, making your device easier to use.
If you are looking to learn more about these products or watch how they are used, check out the video below.
Dashboard Extension Plate Options
Are looking to customize your ProClip mount, but you have a dashboard mount instead of a console mount? Make sure to check out our vertical and horizontal extension plates for dashboard car phone mounts. These plates add up to an additional two inches of space on the phone mount, which is great if you are looking to mount a larger device.